Back to Blogs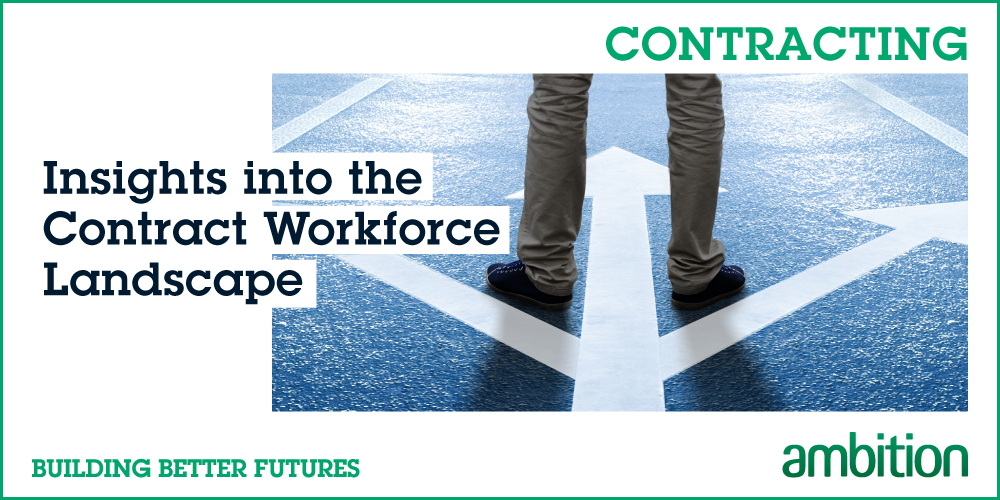 Insights into the Contract Workforce Landscape
Globalisation, technological advancement and rapidly changing business situations are just 3 factors that have contributed to the evolving composition of today's workforce. Companies are constantly trying to strike a balance between increasing productivity, keeping costs low and being sufficiently flexible to adapt to changes. In light of this, companies are increasingly hiring contractors to form a part of their workforce. We interviewed Ambition's Director of Contracting, Michael Nette, to pick his brain on some of the rising trends in contracting, how companies are adapting and his advice for jobseekers, given the current employment outlook.
1. What contracting trends have you observed and how have these contract roles evolved in the past few years?
Prior to the Global Financial Crisis in 2007, contract work was used for either maternity/sabbatical coverage or projects. It has evolved over the years due to budget constraints, cost-cutting measures, as well as to replace permanent headcount which otherwise would have been difficult to obtain.
Apart from within the financial industry, we have also seen a growth in the requirements in the last couple of years for contract roles from commerce clients, especially in the areas of business support, HR and finance.
2. Why should a jobseeker consider taking up a contract role?
In a market where supply (jobseekers) exceeds demand (jobs), jobseekers especially those who have been out of work for a while, should consider taking up a contract role for various reasons: to earn steady income for a period of time, to keep abreast and involved with what is happening in the market, to establish new contacts in a new company, and to gain exposure to a different organisation and working environment.
Some employers are still particular about big gaps in between jobs and a contract role helps to reduce these gaps which makes it more pleasing to the eye for potential hiring managers. In the current job market, employers are aware that contract roles are no longer seen as 'second class' employment, nor do they automatically assume that a candidate is not capable of securing a permanent role.
Additionally, the speed of landing a contract role is much quicker due to fewer rounds of interviews and faster turnaround in the interview process and onboarding.
3. What are the reasons for a company to hire a contractor versus a permanent staff? Are there benefits to the company from having a contract workforce?
Companies are all about employing cost-saving measures these days and hiring contractors offer a good alternative to bring in an extra pair of hands to deal with an increasing workload and at the same time, it comes with the benefits of not having to pay them variable bonuses and worrying about attrition. In the current climate, where even obtaining approval for permanent headcount is difficult, contract hiring provides the ease of onboarding someone quicker as these contractors are usually available on short notice. This is especially important when the company faces a situation where an employee is leaving soon or is going on maternity leave, where proper handover is required. By employing a contract workforce, the company ensures that there is adequate manpower during project rollouts or new system implementations. Contractors also provide companies with flexibility as they are usually more open to take on a greater number of tasks/projects or different job responsibilities to gain experience.
4. What are the challenges faced by companies when recruiting contractors?
Some of the challenges companies face in hiring contractors include:
- Commitment, on the contractor's end, to stay throughout contract duration, which can be rectified by providing a completion bonus.
- Contractors receiving permanent offers halfway through the contract and leaving. Employers end up having to hire a replacement and retraining the new person.
- Difficulty in finding candidates who are available immediately/on short notice and with the relevant skillsets. Hiring a contractor is essentially looking for an experienced candidate who can hit the ground running without having to invest in on-the-job training, which can be time-consuming.
5. How can companies keep their contractors engaged and reduce the distinction between them and permanent staff?
As contract roles become very common in the current employment landscape, hiring managers have a greater understanding of the importance of making contractors feel welcomed and making them an integral part of the team. Contractors can be doing exactly the same work or take on the same responsibilities as a permanent employee. They are valuable members of the team as they bring with them the experience gained over the years. They also provide the perspectives of working in different cultures and unique insights from the other organisations they have worked in. Companies can and should leverage the experiences, perspectives, and insights that their contractors possess.
We see a greater number of companies including contractors in company or department events, providing them access to the company's intranet, issuing them staff passes that have the same look and design as a permanent employee's pass, and generally treating contractors as part of the team without any bias or exclusion. Many companies are also encouraging referrals of contractors to other teams when their contract ends, so to keep good talent within the company. These are encouraging ways to ensure that contractors to feel valued and included as part of the team.
6. What advice would you give to a contractor looking to transition into a permanent role?
Always think carefully about taking on a contract role just like you would with a permanent offer – consider the remuneration package, benefits, job scope, people you will be working with and of course, the possibility of remaining long-term with the organisation. We have seen many cases of our contractors being converted to permanent employers due to their work performance and when the headcount presents itself.
It is crucial to behave like a permanent employee from day one as you will be assessed on your ability and attitude, even as a contractor. It's always best not to have any expectations when you take up a contract role; if you get converted and become a permanent employee some time down the road, take it as a bonus. Regardless, you would have also gained more working experience and the opportunity to work in an organisation which you might not have had the chance to due to the lack of permanent headcount.