Back to Blogs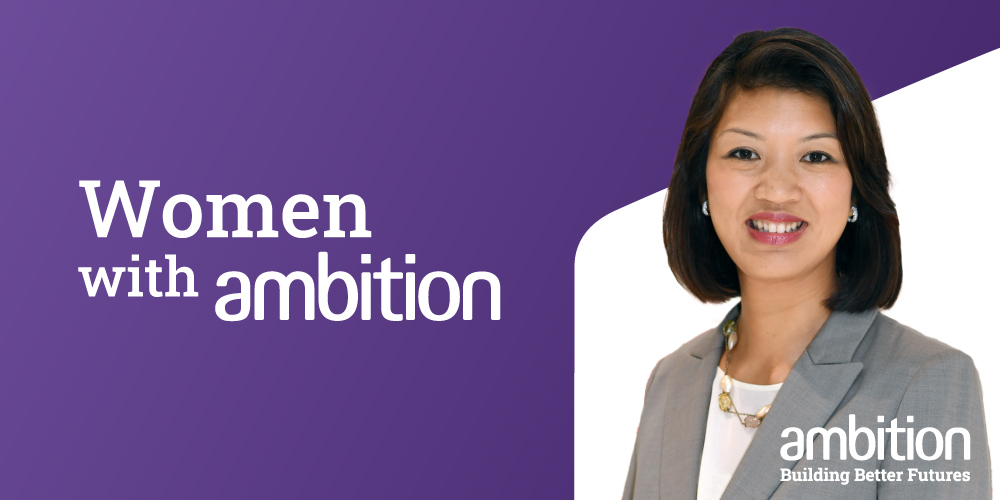 Women with Ambition: Up Close with Mae Loon
Mae Loon strongly believes that women need to be bold in their careers and take risks early on. Even if things don't pan out, it's a learning opportunity to learn about your strengths and work on growing the areas that you are passionate about. As a female leader and the Director & Head of Communications, Asia Pacific at Swiss Re, she has worked hard to provide equal opportunities to the members in her team.
In today's Women with Ambition feature, Mae Loon shares her personal career journey and the importance of having both mentors and sponsors to help you grow in your career and take on greater challenges at work. Read on to learn more about the nuggets of advice that she has to share with us.
1. JP Morgan Chase, Citibank Inc. and Mastercard are just some of the companies who have adjusted the gender pay gap to close to one percent. Can you share examples of equality practices that your firm looks closely at?
During my time at Swiss Re, I have taken the opportunity to close the gender pay gap on my team several times and I want to emphasise that I did this for both women and men. I very much believe in equal pay for the same job regardless of gender. Being able to do this personally, at a firm that walks the talk, gives me a greater sense of purpose. It's something that a job description cannot do. We are also very conscious of inherited pay gaps when bringing in external hires and look to steadily adjust this as time goes on.
2. If you could give one piece of advice to your younger self, what would that be?
Have patience and hone the ability to tune out the noise.
I started my career in the newsroom – there I learnt that it's important to take comments and opinions with a pinch of salt and to really investigate something much more thoroughly if different pieces of the story just didn't seem to make sense. Be patient as truth will prevail. However, truth doesn't prevail without effort and conscientiousness on the part of the journalist. There's always more to the story than what you see. It's also important to stay positive and have faith that things will pan out.
Another really important piece of advice (I wish I was given when I first started out) is understanding the difference between mentors and sponsors. Sponsors help you get specific assignments that position you to advance your career, whereas mentors are more like coaches. Every woman (and man) needs both mentors and sponsors.
It would be great to see more women, just as men do, create opportunities for themselves by seeking out sponsors who help them build on their strengths and guide them onto the next steps in their career. Similarly, women should also take on the role of sponsors, not just mentors, when they are in a position to advance another woman's career.
3. Who inspires you and why?
I am drawn to those who are creative and break new ground. But equally, I am drawn to those who show me how far humility can take you.
Often when this question is asked, the expected answer is some well-known personality, but in my case, I will always lean on my experience of managing a paraplegic employee. He is a true inspiration.
I saw grit, an empathetic approach and eternal positivity in this man. Many of the people he worked with had no idea he was physically disabled - they never saw him and only heard him on the phone or responded to his emails as he only came in the office once a week. What I noticed is that people were always drawn to him because of his empathy. He was very humble and laser-focused in the way he got his tasks done and always on time or even ahead of deadline in many assignments. He was by far more effective than some of the fully-abled workforce.
It was a privilege to work with him and I carry those lessons with me every single day.
4. What are some strategies that can help women achieve a more prominent role in their organizations?
Overall, I feel women underestimate themselves. My advice would be "don't be afraid to take it on even if you don't think you can do it". For example, even if it seems like a big challenge, take on a role that offers P&L responsibilities!
Women usually expect to tick every box before even applying for a role or raising their hand, whilst men jump at it or find sponsors who give them the opportunity.
5. As a female leader, what has been the most significant barrier in your career?
I think the barrier was one somewhat self-imposed – of not taking more risks with my career moves. I had an opportunity to move into a P&L role earlier in my career, an opportunity that I was offered but didn't take up. So to other women, I would say, be bold and take those risks early on. Even if they don't work out, it's actually a good way to learn about your own areas of strengths and clearly identify areas that you are personally passionate about to grow into in the long run.
As mentioned earlier, I grew up in a TV newsroom, and this environment is fast-paced, sometimes brutal and also very competitive – and unfortunately in this environment, women do get judged on their looks while trying to level the playing field. So, I had to be doubly confident in being able to do my job well and deliver thoroughly researched stories and pull together compelling financial news programmes that were newsworthy and relevant to our viewers. This actually helped me to develop a stronger sense of self-confidence and shut out the noise and stereotypes.
6. In light of the COVID-19 pandemic, what are 2 pressing challenges that you and your team currently face? What steps are you taking to mitigate these challenges?
Communications teams are in demand during a pandemic. The purpose of Swiss Re is to make the world more resilient, so my team and I are really living the values!
Main challenges, not dissimilar to others I can imagine, are much longer working hours and managing the pressure from the role and expectations.
The main steps we are actively taking are:
Focusing on the impact of the work you are doing to guide you so that there is a sense of purpose

Look at what we should STOP doing before we take on more, and constantly triage and recalibrate

No internal meetings on Friday and I personally do not ask for nor accept meetings without agendas as this helps with time management
7. With most teams working virtually, how have you adjusted to this change and ensure there is transparent and effective communication with your team?
Often, those working in communications put the interest of their stakeholders and the company ahead of themselves as it's their professional duty, and then they promptly forget to speak up for themselves when they are overloaded! I believe it's important to communicate for ourselves too.
As a manager, an employee and a parent, I have been transparent on my workload, I've asked for help when I need it and I do my best to carve out some downtime in between the incredibly fast-paced, high-pressure days of COVID-related marketing and communication work.
I have also adjusted to the team's preferred modes of communication with me (be it WhatsApp, WeChat etc.). Most importantly, created a sense of accountability so everyone knows we are in this together.
8. How do you see businesses evolving after the pandemic subsides and what role should female leaders play during this period of transition?
I don't believe this is a question about gender as both female and male leaders play important roles. We are in the midst of a humanitarian crisis and now at the cusp of returning to normal. From my perspective, normal work is returning, and companies are looking at the impact of the coronavirus outbreak on their business.
Teams also need to re-evaluate priorities after this pandemic as it has made us all rethink the time we have spent on certain projects.
This is also an opportunity for leaders to build grit and resilience in their teams. Generally, people prefer stability but the current situation is quite the opposite, so we have to continue to adapt to this as we move on to the 'new normal'. Also, we need teams who can weather this storm ably, confidently and look to the future with hope.