Back to Blogs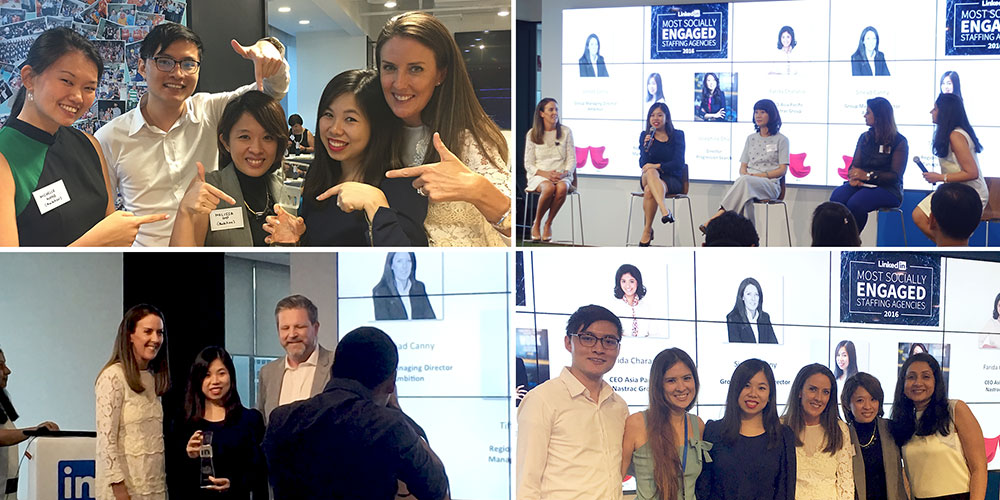 Ambition - LinkedIn Asia's Most Socially Engaged Agency 2016
It's not just about winning the Number 1 'Most Socially Engaged Staffing Agency in Asia on LinkedIn', it's about striving to publish content that our readers really want to read.
We were honoured to be invited to LinkedIn Singapore's Year End Appreciation Night on November 24th at LinkedIn Singapore's Head Office at Marina Bay Financial Centre where we were formally presented with our award for being the Number 1Most Socially Engaged Staffing Agency in Asia.
We were also delighted to be part of a distinguished speakers panel which consisted of two Ambition panellistsSinead Canny, Global Marketing Director and Tiffany Khor, Marketing Manager for Asia, as well as two other panellists Farida Charania, APAC CEO of Nastrac Group, and Josephine Chia, Director of Progression Search.
The panel discussed their experiences and gave insights on generating and increasing engagement on the LinkedIn platform, which to date has over 467+ million members.
Ambition have come a long way in building up our LinkedIn page and we believe the key to our success comes down to 3 key factors:
Presence – continually have a voice and opinion over social media to reach out to our readers and followers through scheduled and consistent content posts.

Content – ensure there are both variety and relevance in the type of content posted.

Engagement – advocate active sharing of content. We relentlessly drive the importance of sharing content online within our organisation.
Thank you to all our followers, readers and customers for making this possible.
But it's not all about the winning.
It's also about getting better at bringing the most engaging, relevant and inspiring content to you, whether you are a talent manager seeking to acquire exceptional talent for your growing organisation or an exceptional professional seeking to take the next big leap in your career.