Back to Blogs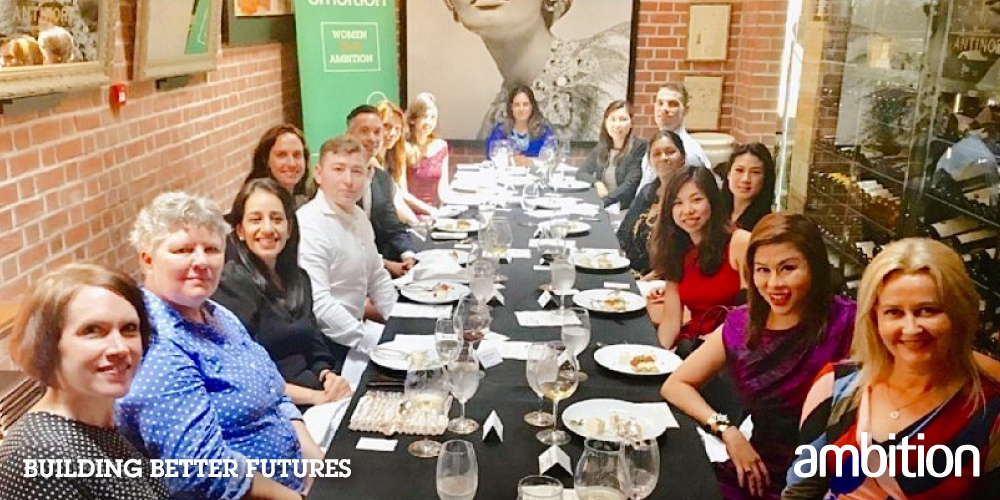 Women with Ambition: The Importance of Talent Engagement and Diversity in an Organisation's Success
Dining in a quaint private room full of senior female leaders across different industries, it was inspiring to hear the stories and experiences of these incredible women on the topic of Diversity.
This week, to celebrate International Women's Day with the theme #balanceforbetter, Ambition hosted a Women with Ambition Roundtable lunch centered around 'The Importance of Talent Engagement and Diversity in an Organisation's Success'.
Starting off with a bit of an ice breaker, each attendee introduced themselves and answered one of the following questions:
What are you most proud of?

Who do you most admire and why?

Tell us about a time when you overcame adversity?

What makes you happy? Why?

What brings out the best in you?
Although the third question was quite a heavy topic for a lunch session, it truly resonated with everyone when two of the women shared their experiences overcoming adversity due to diversity and integrity issues within their firms.
Over a scrumptious lunch, we all delved deeper into the topic where we discussed:
Initiatives other firms are currently embedding to improve and promote gender diversity e.g. Women in Banking scholarship programs, making the effort to recruit from a diverse talent pool, holding regular events to advocate and build awareness around diversity and inclusion

The gender gap in leadership roles. Currently, only 15.2% of females are in senior management roles in Singapore with an aim to reach 20% by 2020. How can we motivate and encourage more women to take on leadership roles in male-dominated industries?

The challenges HR Managers face when hiring women in tech companies, especially within software companies

Organizing more focus groups across industries. Such focus groups are great platforms that allow women to share ideas on how to overcome challenges they may face in the workplace

The need for companies to further embrace and promote diversity and inclusion by:

Embracing flexible working to allow for work/life balance

Widening the recruitment talent pool

Setting diversity goals and educating staff around the importance and the positive impact on the firm overall

Understand the current bias in the firm and the need to reduce it

Setting up diversity committees
Though we're currently not at the level of diversity we'd like to be at globally, it's fantastic and encouraging to see more and more initiatives being put in place to further build a more diverse and stronger workforce within the corporate world.
Diversity is a topic close to our hearts. Ambition currently runs two programs to promote a more diverse and balanced workforce – The Ambition Academy and our Back to Work program. Both programs are aimed at helping individuals with little or no experience with their first steps into a fulfilling career.
A big thank you to all those who attended and for sharing such personal and inspiring stories with the group.
I'm definitely looking forward to the next one!