Back to Blogs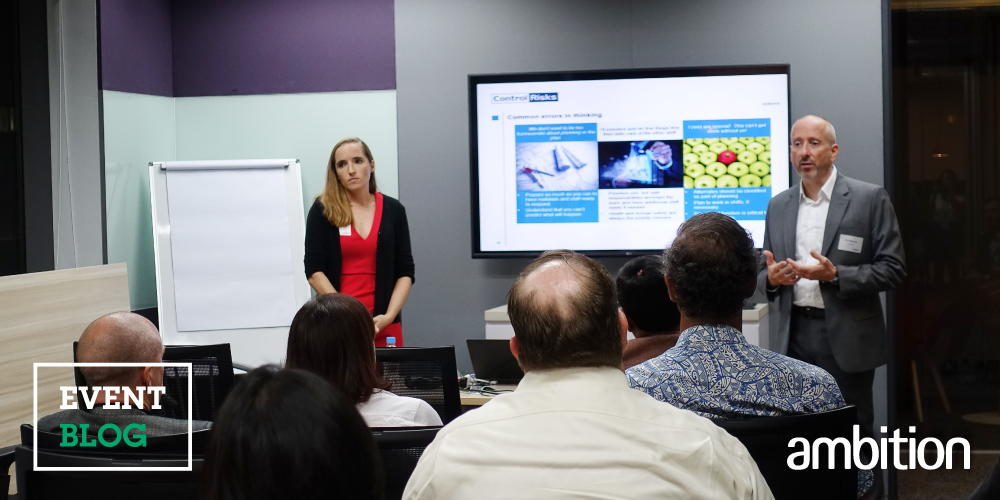 Cyber Security Crisis Management
Ambition was honored to host an event run by Jim Fitzsimmons, Director of Cyber Consulting at Control Risks at our offices for our latest 'Technology with Ambition' event.
Jim has extensive experience working with clients in the identification, management, and mitigation of security and resiliency risks. During the event, Jim shared his insight and advice on best practice in the event of a cyber security crisis and the roles and responsibilities of each CxO team member when such incidences occur.

An interesting revelation discussed during the event is that effectively, managing a cyber crisis often comes down to properly managing the incident before, during, and after it takes place. A broad perspective of cyber crisis management was discussed including the actions to be taken by each key executive and that cyber crisis management isn't just a CIO or CISO related issue.

Several industry leaders from across numerous industries including financial services, internet and consulting industries attended this engaging event.
Sincere thanks to our speakers and attendees for a very insightful and enjoyable evening.
For more information about this event or about future events in the 'Technology with Ambition' event series, please don't hesitate to contact me.