Back to Blogs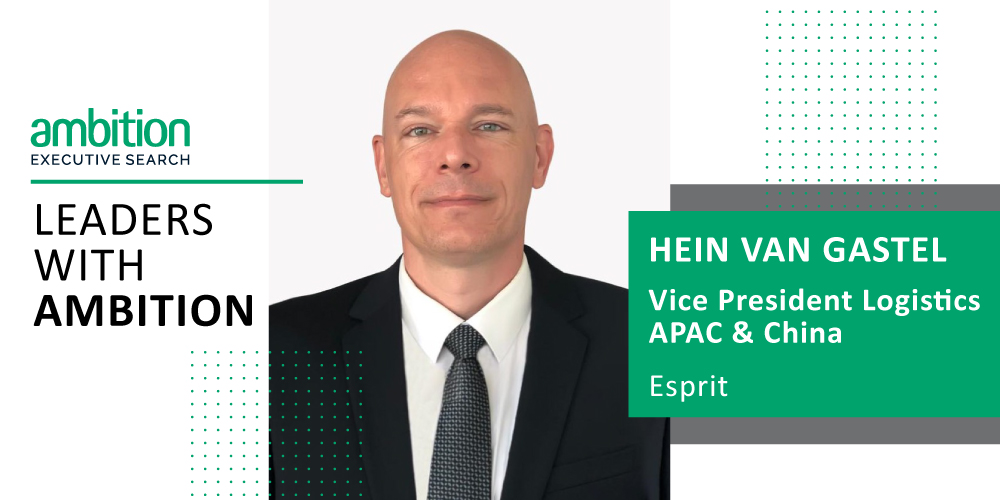 Leaders with Ambition – An interview with Hein Van Gastel
In his extensive career, across countries and regions, Hein Van Gastel has uncovered his greatest lessons from jumping into the unknown and from making mistakes. During an interview with Ambition, he shared inspiring stories about the challenges he had to overcome and highlights of his career. Read the interview to find out more about his career and discover the advice he has for professionals looking to excel in their career.
1. How did you get to your position today?
I was headhunted to help Esprit rearrange the entire supply chain in Asia, by consolidating their Distribution Centers while implementing an omnichannel approach. By nature, I am always keen to start a new process or fix complicated problems. A challenging job always excites me. Therefore, I decided to take up the job and use my extensive experience in manufacturing and supply chain at Esprit.
Looking back at my career, everything that I have experienced and learnt until that point in time was beneficial, leading up to this new position. It was the logical next step for me.
​
​
​
2. From your first job until present, what important lessons have you learnt along the way?
The most important lesson I've learnt is "not to be afraid". I have always taken up challenges and faced the unknown. One of the leaders at Nike Europe once told me "list your fears but don't be afraid". I was inspired by that statement and have applied it since.
Another lesson I have learnt is to "do things that I believe in or am passionate about". We all only live once and sadly many of us get stuck in a job we dislike due to our fear of the unknown.
Of course, you also need to:
focus

work hard

avoid things that waste your time

write down your goals

foster meaningful relations.
​
3. Who is your role model and tell us a bit about them.
From a leadership perspective, I have 3 role models that remind me to be better and serve as a form of motivation that pushes me to succeed:
John F. Kennedy: for setting targets and strategic visions. An example would be putting a man on the moon in 1962 when they did not even have the means and materials to accomplish this goal.

Nelson Mandela: for building harmony and teamwork. He was able to bring together an entire nation from the confines of a prison cell.

Dalai Lama: for compassion and seeing the good in people. Be empathetic to people around you; I have always worked with the concept that 50% is what you do and 50% is how you do it.
Amongst the people close to me, I would have to say my dad. He taught me the most important lessons in life but also gave me the opportunity to make my own mistakes. He was always able to guide me without giving a direct solution to the problem. At times, I think that he knew that I was about to make a mistake but that the lesson of the mistake was of far greater importance. So, he would refrain from resolving it for me.
4. What inspires you?
Coaching inspires me the most. This goes beyond coaching people at work. It is also about coaching the next generation or assisting people in their life journey. Seeing someone grow into a role or grow personally is the greatest reward; it beats money and status anytime. Nike has a slogan that I love and live by, "You either coached someone today or you didn't!".
5. What is your greatest achievement to date?
In the early days of my career, I would have to say my greatest achievement would be starting Nikestore.com in Europe. That was a major undertaking with a short lead time. In the end, what looked impossible was accomplished through a lot of hard work. What helped us the most was that we were aligned as a team and were motivated to reach the same goal. This was something that we made sure was understood and communicated from the start. Everyone was thinking of solutions and getting things done, instead of worrying about who was right or wrong, or why there were changes in the middle of the process. Our end goal was to deliver a solution.
For my latest achievement, I would say it would have to be the consolidation efforts of our entire supply chain at Esprit.
Complexity and hard work always bring out your best; you may not think it at the time when you're ploughing through the work and going through long days. However, in retrospect, it will always be a memorable and rewarding experience.
6. What is the biggest challenge you've faced in your career and how did you overcome it?
Turning around many loss-making business units to earn a profit. When I joined Panalpina, the logistics branch in Benelux was losing a lot of money. Within 3 years, we turned things around and the branch was very profitable. It required us to revisit what we were doing on a day-to-day basis and move towards operational excellence. At the same time, we had to renegotiate contracts with suppliers and customers, while building the organization. I created a strategic plan where we had a 6-month vision laid out, we had everything that we were committed to doing as a team and communicated this to all our employees. We revised it every 6 months to regain focus for the next two quarters. It made me and my team committed, and it provided transparency to all involved.
7. What is the most valuable advice you have been given?
The advice comes from my MD during my time at Menlo (now XPO), he told me that there is a big difference between "being right and getting it right!". Meaning that although you might have the right answer or solution, getting people to buy in or to gain approval from a higher level requires different skill sets. Once you understand that difference, you will be less frustrated when you know you are right but have not received the go-ahead or approval to implement.
8. What advice would you give to professionals looking to excel in their career?
Don't be afraid to fail and learn to enjoy jumping into the unknown. This is where you will do your best work and learn the most.

Develop the ability to listen and be patient when things don't go your way immediately. Changing the culture or implementing strategy is not an easy exercise, however, it can be done over time.

Show initiative and be pro-active. Don't be bothered with others who are cutting corners. Do your job and do it to the best of your capabilities.

Be productive. For me, the concept of productivity is applying the most amount of effort to the best of your abilities and in the least amount time. If you do that you will excel.
9. Can you give me 3 things on your 'bucket list'?
I keep an active bucket list, although I have done a few items on that list, there are still many items left. The 3 biggest ones would be:
Climb Kilimanjaro

Set up a foundation for the underprivileged and youth

Travel the world
10. What 3 words would you use to describe yourself?
Thinker, determined and coach.
11. If you could live in any country in the world, where would you live?
I was raised in Ghana and Tanzania, and returning to these countries, from a nature and adventure perspective, would be great. However, taking into account many other factors that make a place feel like home, I would have to say Singapore.
12. If you won a lottery ticket worth $10 million, what would you do?
First, I would make sure that my family, especially my dad, is taken care of. Next, I would set up a foundation to support children, the elderly and animals. If there is still money left, I will travel the world and visit the places I have not been to. I still have 149 countries to go!