Back to Blogs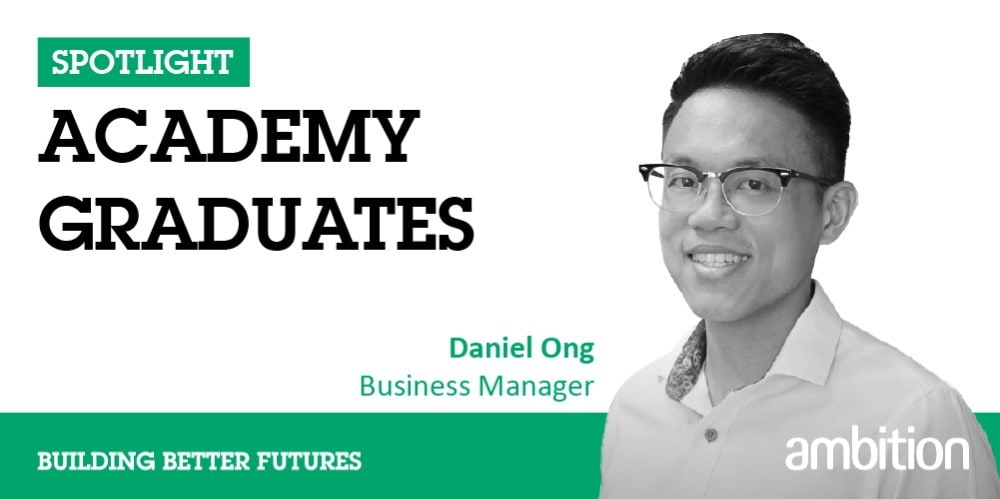 Insight to the Ambition Academy
Our Ambition Academy is back! Hear from our previous Academy graduate, Daniel Ong, as he shares more about his experience during the programme. Read this blog to find out more!
​
1. How did you first hear about the Ambition Academy?
Believe it or not, I actually chanced upon the Ambition Academy when I was browsing through online for recruitment consultant opportunities. I decided to give it a try as the program looked quite interesting and was hoping it would give me a glimpse of what recruitment is like.
2. Can you tell me about your experience at the Academy? What did you learn?
I went through a series of assessments which included case studies, debates and group discussions. The topics given were all related to what a recruitment consultant would do in their daily work which I found was very useful and relevant. Overall, the Ambition Academy was challenging as we were exposed to both theory and practical side. This allowed me to gain a deeper understanding and enabled me to trial the role as a consultant so that I knew exactly what I was getting myself into. What was very helpful about the program was the mentorship. The managers at Ambition took the time to take us under their wing to provide guidance and support.
3. How did the Academy prepare you for your next role?
It provided me with the theoretical concept of how we should go about doing each aspect of our work, be it candidate calls, interviews or client management, just to name a few. As such, there were no surprises when it came to the real work. Time was also given for me to perform the actual work at our desk after our classes so that we could apply what we learnt.
4. Who would you recommend the Academy to?
I would recommend it to anyone who is either new to recruitment or would like a career change. Recruitment is challenging and rewarding at the same time so if you've had enough of your current career, why not give recruitment a go?
5. What advice would you give to those thinking about joining the Academy?
I would say to keep an open mind as the classes are specifically designed to teach you the basics of recruitment. This will help you become a successful 360 recruitment consultant in the long run.

If you are interested in joining our Singapore Academy, please email your CV to LC Lim atLC.Lim@ambition.com.sg