Back to Blogs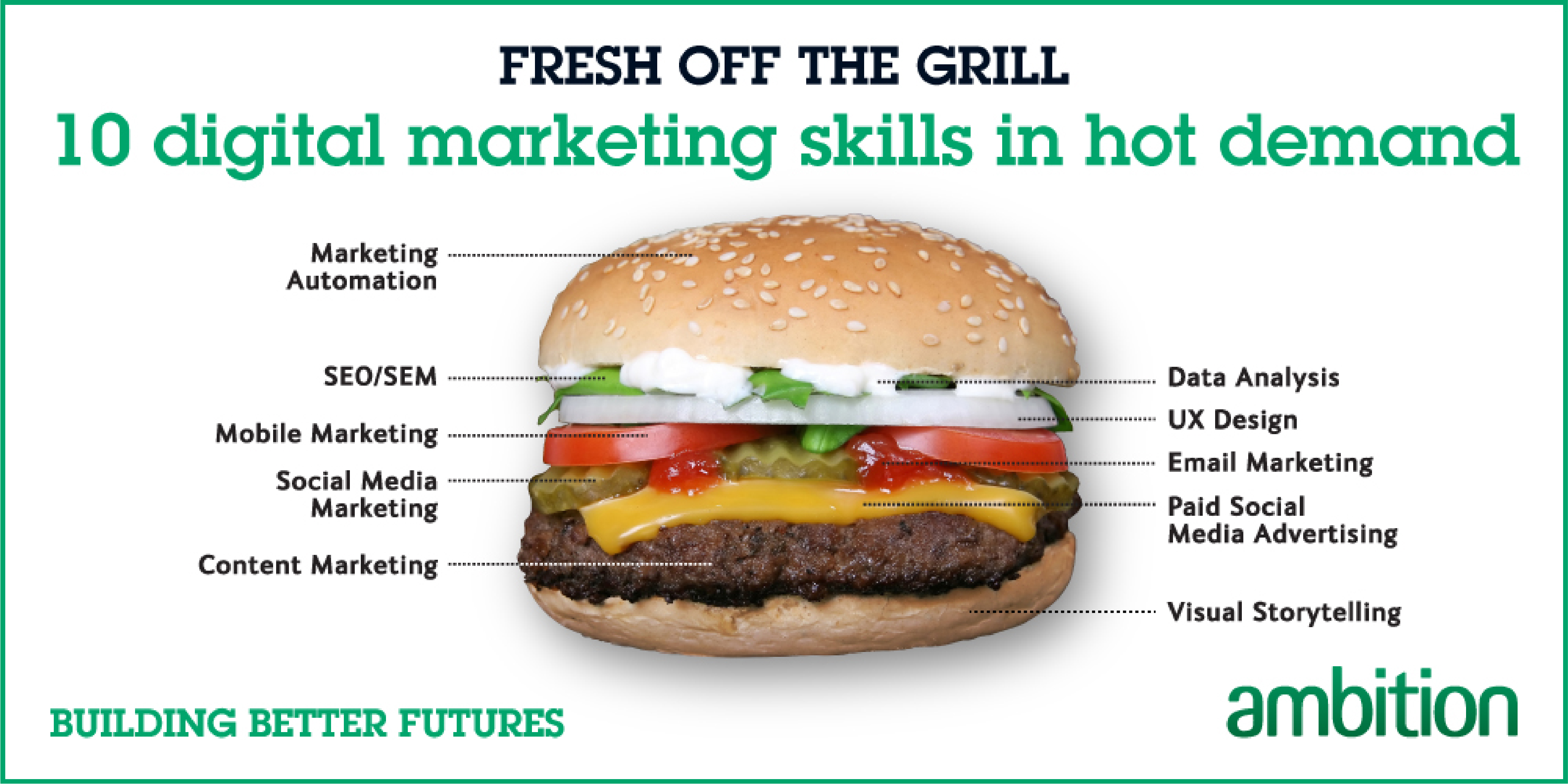 Fresh off the grill – 10 digital marketing skills in hot demand
The digital marketing space is constantly in a state of flux. There is no doubt that it is growing as more and more companies look at ramping up their digital efforts to keep their marketing relevant and effective. However, which skills in the digital marketing stack are more relevant given the current business environment? What are companies looking for in the talent that they hire? Discover the 10 digital marketing skills in hot demand in this blog:
Marketing Automation
Marketing leaders are now more focused on keeping their budget in check and showing the ROI of their marketing efforts. They want to boost the effectiveness of their marketing activities and productivity of their teams. This has led to the growth of marketing automation and the platforms that enable companies to achieve this. Professionals who know the ins and outs of setting up the technology and software, who understand the different platforms and who can show results are in high demand. As a marketer, you need to be able to automate emails, social media, and content marketing. Your automation strategy should focus on converting by covering top-of-funnel awareness, lead nurturing, closing and reporting.
SEO/SEM
Some people may question whether investing in SEO/SEM is something that they should look at as part of their overall marketing strategy. However, with 61% of marketers stating that making improvements to SEO and building their organic presence is their top inbound marketing priority (HubSpot, 2017), you can't afford to be left behind. With Google constantly updating its search algorithms, you will need to keep up with the latest practices and techniques.
Businesses are also looking to drive targeted and high-quality traffic through paid advertising and SEM is one such method to do so. The focus here is to ensure that the business generates a high ROI through their SEM efforts. You should have a strong understanding in marketing strategy and be skilled in analytics. You will need to be an expert in Google Ads and Google Analytics to develop campaigns, track them and deliver results.
Mobile Marketing
As the number of mobile users increases globally, mobile marketing has become a highly sought-after skill. There are specific differences between mobile marketing and other forms of marketing. Mobile marketing comes with its own set of technology, platforms, and best practices. Omnichannel marketing, app retention, and responsive design are just some of the things that a mobile marketer has to look after. While this skill is challenging to master, having it under your belt will set you apart from other digital marketers.
Social Media Marketing
The number of monthly active users on Facebook stands at 2.2 billion (Facebook Quarterly Results). LinkedIn has 546 million users across 200 countries (LinkedIn). Then there's Instagram, Snapchat, Twitter and the list goes on. These days it is no longer about simply posting an update or photo on social media. Brands want to get higher engagement and to meet key goals such as higher rates of conversion, more website traffic and so on.
In order to be a social media marketing expert, you need to have a strong command of copywriting, analytics and a keen sense of aesthetics. You have to know how to maximize a brand's reach organically, run paid campaigns, know what kind of content to create and publish, which channels to utilize to reach certain segments of your audience, when to push out content and the tone to adopt. Social media is not going away anytime soon as people seek to create and maintain their connections. As a marketer, you have to keep yourself in the know and master this skill to set yourself apart from everyone else.
Content Marketing
Knowing what kind of content to produce for the various distribution channels is a critical skill to have in a world overloaded with content. You need to know how to attract potential customers with attractive and useful content. This goes hand in hand with many of the other skills listed in this blog. You should know how to curate and create relevant content and find new ways to present information. As a strong content marketer, you will need to be an expert copywriter, possess pro research skills and be comfortable with data, to consistently produce compelling pieces of content.
Data Analysis
A critical part of digital marketing will have to be data analysis. With all the marketing campaigns that you run, there will be several moving components and a large amount of data collected. To ensure the success of the campaign and future ones, it is important to conduct tests, collect data, and analyze that data to identify areas where you can improve and break past plateaus. Making sense of the data acquired will allow for better targeting and engagement of the customers, and to customize the experience that they go through when interacting with the brand.
UX Design
The experience that a potential customer has and their impression of your brand can lead to them making a purchase or choosing to leave. UX design may not be directly responsible for generating new leads, but it is an important part of a digital marketer's stack of skills. It goes beyond just ensuring that the company's website is well-designed. A UX designer also needs to make sure that a customer goes through a pleasant experience at every touchpoint. In a highly competitive world, there is no room for bad customer experience even if they may not end up purchasing something from you at their first point of interaction.
Email Marketing
Email marketing goes beyond writing fanciful emails and sending them out to a list of contacts. Companies want capable marketers who are able to craft quality emails that result in conversions. They want people who can build massive email lists and know how to leverage them to meet specific targets. By having a large email list, companies can tap on these people, who have already engaged with their brand, to grow their social media outreach, promote their services and products and drive the business. A savvy email marketer would know how to craft a campaign from scratch, outline targets, craft emails, run A/B tests, measure key analytics and generate reports.
Paid Social Media Advertising
With the various updates to numerous social media platforms, organic reach has dropped and it has become increasingly difficult to make your brand seen on social media. That's where paid social media advertising comes in. Running ads on Facebook is different from LinkedIn. A brand may utilize more than one platform in order to reach their target audience. You will need to have a mastery of social media advertising strategies for the various channels, balance budgets and ensure you deliver the best ROI for the business.
Visual Storytelling
As a marketer, storytelling should be one of the core skills you possess. To be able to share an authentic and engaging story with your audience involves a strong understanding of what goes on in their minds. As the human brain is able to process images better than words, marketers have found that visual storytelling works well when trying to explain difficult concepts or ideas and allows for greater retention of information. Companies are always on the lookout for individuals who are well-versed in producing visual content and possess the know-how and capability to use various editing and design software.
It is not necessary for you to master the entire list of skills but you should be an expert in a few. Find out which area you're interested in and understand what you need to do to be exceptional in it. Being aware of the various skills in demand will also help you figure out the areas of collaboration between you and other colleagues in the marketing function. Which of these skills do you think are the most relevant and in trend currently? Share them with us!