Back to Blogs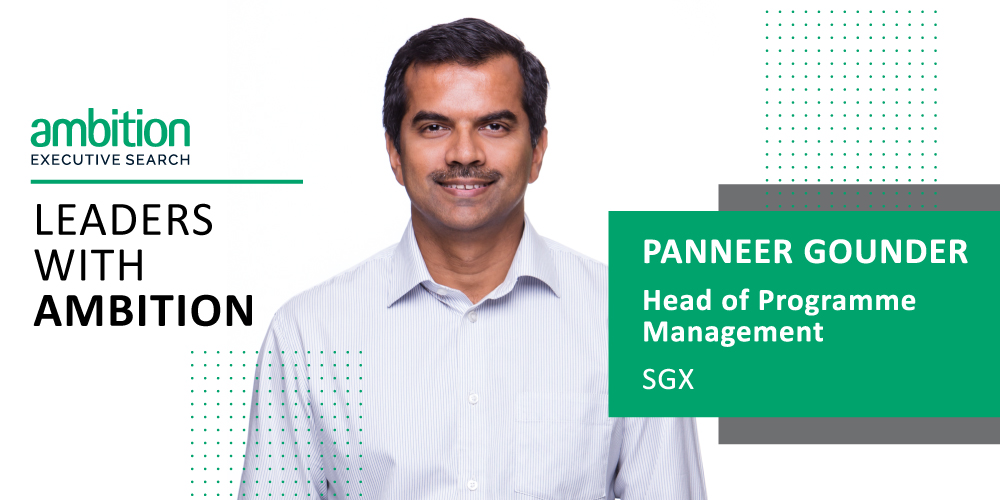 Leaders with Ambition – An interview with Panneer Gounder
Panneer Gounder has accumulated extensive experience in programme management and delivery throughout his career. Be inspired by his personal story as he shares about the highs and lows in his career. In this interview with Ambition, he also talks about the importance of IQ, EQ, and AQ. Not quite sure what all of this means? Read the interview to find out:
1. How did you get to your position today?
I enjoy the process of working with a team of specialists to create something new. Whether it is developing a health insurance product, launching a trade settlement system or even building a new extension to my house, I get satisfaction from the process of creating a plan and seeing it through to fruition.
Looking back, I realise that the seed of project management and delivery was planted early in me. When I was in fourth grade, I brought together a group of classmates to plan and create a card for the form teacher on Teacher's Day. I was not the expert in design nor in calligraphy, but I brought together classmates skilled in each area. It was only later that I realised I was playing the role of project manager.
I moved into different roles over the years in various industries. Currently, I am responsible for delivering strategic projects in the capital markets.
2. From your first job until present, what important lessons have you learnt along the way?
I learnt a few key lessons along the way which I have distilled into three important characteristics for project or programme managers.
First, is IQ or intellectual quotient. A programme manager or delivery lead needs to understand the complex environment he or she works in and adapt accordingly. Second is EQ or emotional quotient. This refers to the ability to deal with people and is critical for success in any large organisation. IQ gets you through the door, success in the job requires good EQ, as we need to work with and through people. Third, is AQ or adversity quotient. This refers to how resilient the person is when dealing with adversity or the ups and downs of the job. A good programme manager needs to have a certain elastic quality to bounce back from setbacks, of which there will be many.
3. Who is your role model and tell us a bit about them.
Early in my career, I had the chance to work with a senior manager who believed in working towards a strategic vision and giving responsibility to young staff. I was fortunate to be co-opted to support him to achieve one of his strategic goals. One of his key mantras was "more vision, less bureaucracy". By that he meant that the manager should set the vision but tolerate variances in implementation, as each person has his/her own unique way of achieving the vision.
Over the years, I have worked with programme managers who had varied delivery styles, based on their personalities and backgrounds. What is key is that despite their approaches, they were all able to deliver!
4. What inspires you?
Working with a great team to deliver a successful project provides me great satisfaction. Especially when the whole team is focused on a common objective and committed to the same goals. The shared camaraderie and teamwork provide memorable war stories to be shared over a beer.
5. What is your greatest achievement to date?
My greatest achievement is building a team that can take over from me and continue to deliver successfully. I have moulded a number of my managers for several years and they are now able to operate independently based on established processes.
In terms of specific projects, two stand out. The first was setting up SingPass as a common authentication service at a national level. When SingPass was set up in 2002, it was still a novel idea which encountered much resistance. It is now widely accepted.
The second project is a programme I managed that met international principles and standards prescribed for financial market intermediaries. This was not a technology delivery but focused on addressing risk and regulatory requirements for capital markets. The steering committee was chaired by the CEO himself. The project was completed successfully despite challenges.
6. What is the biggest challenge you've faced in your career and how did you overcome it?
The biggest challenge I faced was when I worked on a small project to replace an order management system used by the securities market operations team. This project was run concurrently with the replacement of the legacy securities trading engine and hence received limited focus and hardly any resources. I had to multi-task for the delivery with a difficult vendor.
Hence, I always have sympathy for the "underdog" delivery team working on low profile projects with little visibility and few resources.
7. What is the most valuable advice you have been given?
The best advice I have been given is that management is not about managing others. It is about managing oneself and managing our reactions to those around us. How we respond to others sets the tone for their subsequent behaviour and impacts group dynamics.
A good manager role models the behaviour he or she expects. By demonstrating the right set of values, the rest of the team members align themselves to these values.
8. What advice would you give to professionals looking to excel in their career?
A career is like a marathon; you will go through ups and downs. After every down cycle, there will be an up cycle, so don't get disheartened. In the same vein, don't get over-elated over an up cycle because it is only a matter of time before we suffer a setback. So, remain humble when successful and resilient when faced with adversity.
9. Can you give me 3 things on your 'bucket list'?
I think it's important to have a balance between family, work, and health in the long-term. So, my bucket list is about focusing on each of these areas and growing it over time.
I like any activity which involves a mountain: climbing, trekking, cycling up a mountain or skiing down a mountain. It is a refreshing change from city life and provides me with a great avenue to recharge. It is also an activity which consumes you fully, so your mind needs to be focused and not wander.
10. What 3 words would you use to describe yourself?
I would say:
- analytical: proceed with a plan in place and understand the big picture;
- passionate: work to create products which excite; and
- builder: create value.
11. If you could live in any country in the world, where would you live?
Rather than select a country, I would consider several great cities/communities with a vibrant work/life culture: Silicon Valley, Boston, Singapore, and other great cities come to mind.
12. If you won a lottery ticket worth $10 million, what would you do?
I would continue working to make a difference to the organisation and society. I am impressed by those who have been very successful in their businesses but still lead a simple life. At the end of the day, what defines a person is not how much money he has made or what car he drives but how many lives he has helped.