Back to Blogs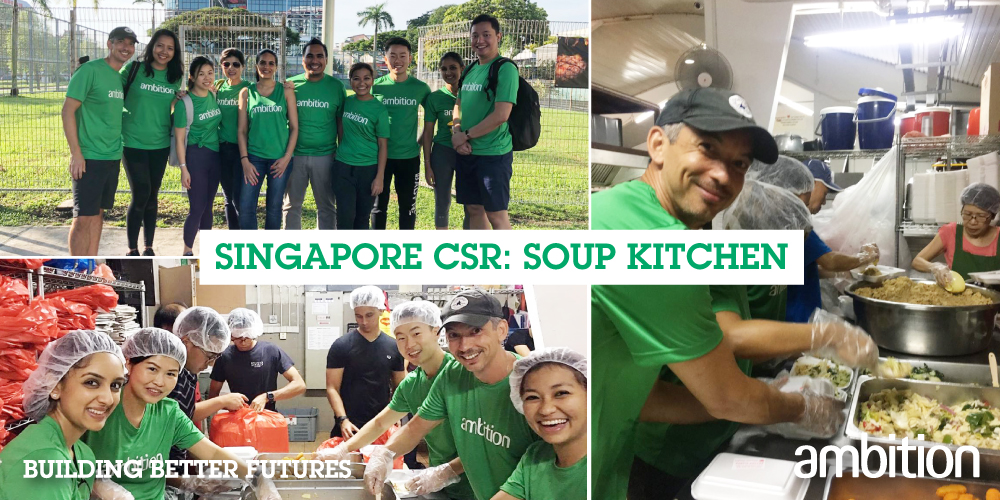 When recruiters step into a Soup Kitchen
When I was asked to write a piece on our recent CSR effort, I paused momentarily to think what exactly is CSR for us, as employees? Corporate social responsibility – there are indubitably a myriad of definitions and thought leadership articles on this commonly used term, however, it wasn't until the recent CSR activity I took part with Ambition that I understood the 'why' rather than the 'what'.
First, here's the how…
When our company's CSR committee sent out an email on the lookout for 10 people to volunteer for a soup kitchen from 6:30 – 8:30 am, I ignored the start time and put my name down without much thought because it was on my bucket list to volunteer at a soup kitchen.
In my life, there are ultimately three things I'll only wake up before sunrise for – a) to catch my flight/to send my parents off to the airport (counted as one), b) my wedding (one day) and c) if there was a national emergency evacuation (even then I'll probably try to snooze till the officials come and get me). Setting the alarm two hours earlier than usual was rather painful but it was all for a good cause!
When we arrived at the location of the soup kitchen, we were clueless about what was happening or what to do, like throwing a cat into a pool (please don't do that!). To top it off, half of us were probably still asleep in our minds and I unashamedly was in the same state, There was no time for questions or chit chat and certainly no time to be briefed. We grabbed ourselves a hair net and a pair of plastic gloves each and slotted ourselves into different stations of cooking (up a storm, literally), washing up, dishing out and packing.
Some of us (early and on-timers) picked the dishing out and the packing station whilst the rest (latecomers) were sent to the washing up station. Having been brought up and always told to help my mother in the kitchen, I honestly thought to myself, 'I'll be fine, I'm just dishing out for maybe 100 more people'. But boy was I so wrong. Within 30 seconds of trying to dish out a spoon full of vegetables, I was told to move faster and to be more efficient as there were over 5,000 styrofoam boxes to pack and we'd only just started. Thankfully, the chatty nature of the group helped to keep everyone going with banter and motivational cries of 'come on, we've only got 4900 more to go!'.
Each lunch box contained – a portion of rice, two portions of vegetables, a boiled egg and 2 chicken nuggets. Finding out that the beneficiaries pretty much had the exact same meal each day broke my heart. It made me realise that I shouldn't even be complaining about the $20 pizza I had two nights in a row!
As I was standing next to an elderly regular volunteer, we started chatting about the why and the how behind his heart to volunteering. As a retired salesperson, he said: "I'd rather be doing this to give back to the community than having my kopitiam breakfast with my friends. It's the least I can whilst I am willing and able to." We also learnt that there are times when the soup kitchen only has the help of 5 volunteers in the early morning slots to cook, pack, wash up and deliver all the meals! Thankfully, with a bit of 90s RnB and hip-hop playing in the background, our 2 hours of labour-intensive volunteering went by quite quickly. I can only imagine how it would be if there were only 5!
At 8:30 am, we saw daylight! All of us were beyond exhausted – covered in sweat, food smells (blood) and oil (tears).
What the elderly man said made me reflect on my own life (I'm half his age!), where I take a lot of things for granted including the food that I spend from the professional income I receive to the office work I do.
The Why that becomes the W(h)OW
More often than not, we take a lot of our daily life activities for granted due to the nature of it not being hard labour or because we're not underprivileged. Taking part in this CSR activity may have been something to tick off the bucket list but it was an eye-opener for all of us in knowing more about what it's like to work in a kitchen and learning that there are many (reminder: over half a million!) less fortunate children and adults who would be longing for the meals that we packed.
Reflecting further, my colleagues and I may be compassionate individuals, but it takes our hearts, willingness and responsibility to reach out to the community in need. If the help of one elderly man can impact a hundred individuals on a daily basis, I'll leave you to do the maths of how many volunteers Willing Hearts would need in order to reach out and feed at least 5,000, daily (365 days a year).
The 2 hours of hard labour in the kitchen are for the elderly, the disabled, low-income families, children from single-parent families or otherwise poverty-stricken families, and migrant workers in Singapore who will be receiving warm and freshly made food, packed and delivered from Willing Hearts in 40 locations islandwide. Learning this made our hearts full knowing that we've made an impact.
Dare I ask if we'd want to do this again?
In a heartbeat!