Back to Blogs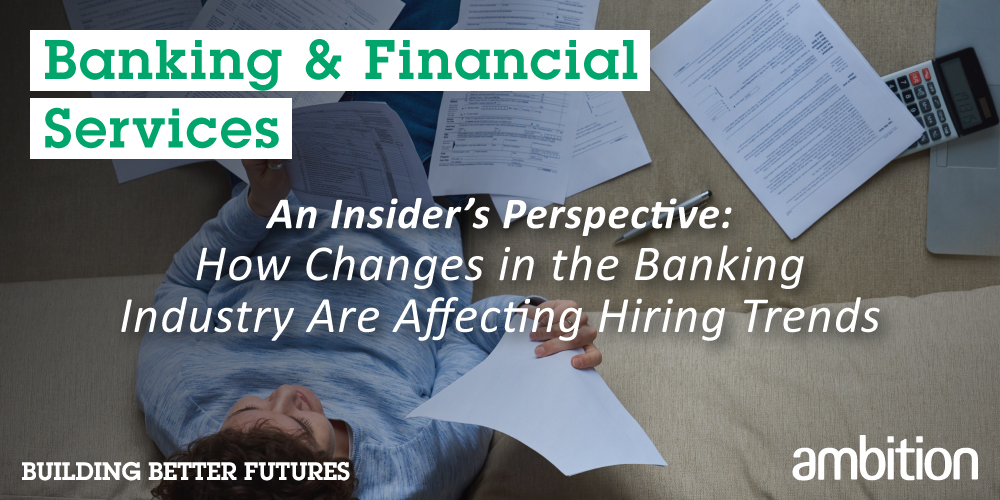 An Insider's Perspective: How Changes in the Banking Industry Are Affecting Hiring Trends
Singapore's banking industry is being hit by the big 'C' – Change. Hiring trends, recruitment processes and talent management are all rapidly evolving. Our team of Banking recruitment consultants gave us the insights they've gained from working with many of the industry's biggest players.
1.As the global economic growth weakens and the sector is affected, there have been layoffs happening across the globe. Has the number of applicants to banking jobs taken a hit?
Overall, candidates in Singapore are more cautious about joining global banks, specifically due to the restructuring and offshoring that has been taking place. Another factor that comes into play is the function that the candidates are working in. Largely, any process-driven role is either being automated or outsourced, and this applies to local banks as well.
In several banks, the Level 1 KYC screening function has been offshored to lower-cost locations. Similarly, market risk functions in certain global investment banks have also been moved.
As an alternative, more candidates are keen on joining the Fintech industry, specifically within digital payments. It's a high-growth industry, with several firms setting up and getting their licences. With the 5 new digital banking licences being provided by the Monetary Authority of Singapore (MAS), the industry is heavily supported by the government and regulators in Singapore. This backing gives candidates a sense of stability that they seek in their careers.
2.There was a time when working in a foreign bank was considered far more superior than working in a local bank. In Singapore, it seems that this is no longer the case. What are your thoughts on this?
The general trend is that candidates are more open to joining local banks now than they were before. This comes on the back of local banks going through a recent cultural shift. They have focused more on Diversity & Inclusion (D&I) initiatives and have also hired international talent into a few key areas which aided the change. Candidates are drawn to the local banks because of the allure of working at the banks' global headquarters and the opportunity of making a bigger impact at work.
However, for some candidates, largely those in junior to mid-level roles or within operational roles, they are still inclined towards joining international banks due to their more open and visible cultures. In these aspects, the culture tends to be more "localised" at the regional banks.
3.What are the hiring trends for banking jobs?
Any process-driven role is being offshored to low-cost locations or being automated with the use of technology.
Tech talent around software development, robotics and Big Data analytics are in demand.
In a bid to be more agile and efficient, banks are keen to hire talent with project management or process enhancement skills.
Candidates with experience handling large data sets and visualisation tools are in high demand. As a candidate, it helps to have basic software skills. In particular, if you're in a role between the front office and technology functions, VBA, SQL and Tableau skills are highly valued.
Hiring for Governance roles has been a major focus for regional and global banks. Due to the new Payment Services Act by MAS, there is a need for regulatory compliance and risk professionals.
Within the front office function, there has been a larger demand in hiring for SME and Business Banking Relationship Managers as they look to drive new business.
4.Are front-office roles in high demand? What are your thoughts on the movement of talent and the hefty pay increments that come along with it?
The demand for talent within the front office function has evolved in the last 5 years. Recently, with global markets getting more volatile, some banks have been focusing on their corporate banking offerings, as well as taking advantage of the growing number of Ultra High Net Worth (UHNW) individuals in Asia within their Private Banking and Wealth segments.
Demand for corporate coverage candidates seems to be generally more stable and in relatively better supply. However, depending on the niche requirements of the roles, hefty pay increments remain the same. For example, Corporate Banking Relationship Managers who hold North Asia coverage, specifically within commodities, have been in demand. It is also a talent-short market and we have seen a larger uptick in pay increments for candidates in this highly competitive area.
It is a supply-short market for private bankers and with the growing number of family offices, banks have been seen giving very attractive offers to attract candidates to join the bank and bring their book of clients and revenue.
5.What are banks looking for in terms of talent? What are candidates like nowadays?
Long gone are the days where hiring managers mainly look at technical skills. Generally, hiring managers within banks are keen to interview candidates with strong interpersonal skills, regardless of function. As roles get more senior, banks may prefer someone who possesses a stronger skill set around this rather than a 100% technical fit. This has led to personality and culture tests taking precedence in the hiring process.
Banks will also consider the "runway" of a candidate if they were to join the organisation. This not only means figuring out if they can do the job now but also determine if the growth in the role will fit in with the candidate's professional vision. This also helps with reducing frictional turnover, which was previously a major concern for banks.
Candidates expectations have also changed in terms of wanting to join banks that have a wider vision and purpose, beyond commercial goals. Therefore, banks that have a larger focus on D&I initiatives tend to be more attractive to candidates at mid-senior levels.
6.With the volatility in the market, are banking jobs still the first choice for those looking for a long-term career?
This goes back to a longstanding debate in the banking industry – "Will Fintech replace traditional banking?". For senior professionals in the industry, they do not believe that banks can ever cease to exist. In spite of this, banks know that they are no longer the top-tier industry for many millennial candidates. Candidates within this age group are increasingly open to moving between industries and seem to be very open when it comes to moving out of the banking industry. Salaries within other industries have also become very competitive, which has contributed to this mindset shift.
With the rapid rise of the Fintech industry, banks have been seen altering their employer branding approach to remain competitive. Some banks have acknowledged and embraced the need to change the typical and traditional practices associated with working in the banking industry. If banks continue to be open-minded and adapt to stay ahead of the curve, banking could potentially return to be an attractive industry where candidates can see themselves building a long and illustrious career in.