Back to Blogs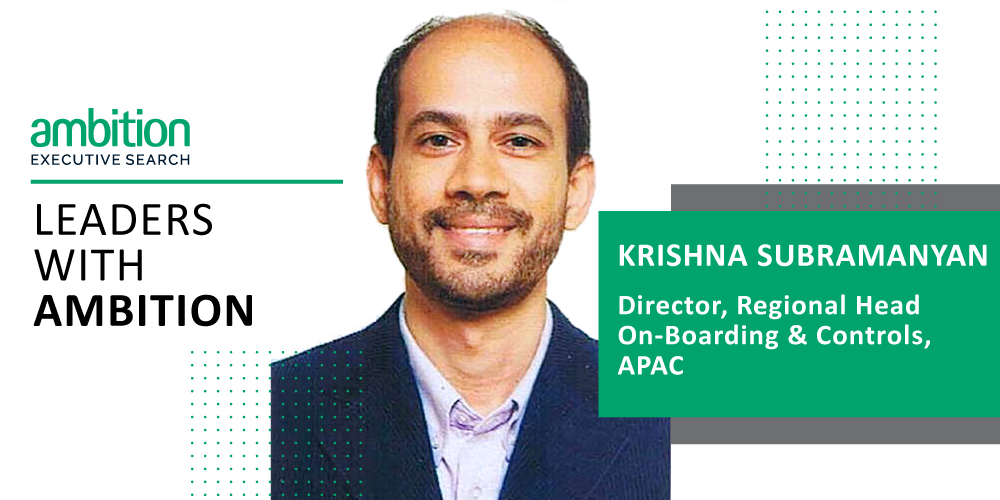 Leaders with Ambition - An interview with Krishna Subramanyan
1. How did you get to your position today?
By always trusting the team that I chose to work with and ensuring that I can leave behind a more organized and capable set of people empowered to leave their own footprints in the roles they play.
2. From your first job until present, what important lessons have you learnt along the way?
That it takes about 3 years to master a complex job. You must be prepared to give it that kind of time and attention.
3. Who is your role model and tell us a bit about them.
The question starts in singular and ends in plural! I suppose it is also natural for the answer to be somewhat along the same lines. The moment you come up with one name, others soon come to mind. My role models are my managers who challenged me and watched out for me. They put me back on the horse in the instances when I fell, to ensure I won in the end.
D A Prasanna, my CEO in GE healthcare - you cannot run out of ideas with him in front of you.
Ishwar Hemrajani, Customer Service Leader at GE - no better man than him to connect with people to get the best out of them.
Vikram Singh, Compliance Head at a Bank - such a bundle of energy that truly reflected the attitude required to succeed in financial services.
4. What inspires you?
The opportunity to commit to and deliver both performance and people goals over 3 to 4 year periods.
5. What is your greatest achievement to date?
My multi-business, multi-geography, multi-domain work experience. A proven track record of success while facing unfamiliar challenges and working outside my comfort zone.
6. What is the biggest challenge you've faced in your career and how did you overcome it?
Every challenge must appear to be big in your mind when you are first faced with it - otherwise, it is not worth giving it a shot. So, the biggest challenge always is which challenge to pursue - I usually resolve this by selecting the one that demands skills that I currently do not have. This way my ego is left at the door and I end up acquiring skills and knowledge that I previously did not have. My CV is the best testimony of this.
7. What is the most valuable advice you have been given?
Go to the gym regularly.
8. What advice would you give to professionals looking to excel in their career?
Early in your career, do not hesitate to do multiple roles across functions even if you are unfamiliar with them. Educate yourself continuously. Work for tough managers who possess a passionate commitment to a vision. And go to the gym regularly.
9. Can you give me 3 things on your 'bucket list'?
To visit the Grand Canyon
Learn a classical language
Live on a ranch.
10. What 3 words would you use to describe yourself?
Strong, flexible and competent.
11. If you could live in any country in the world, where would you live?
Singapore and India.
12. If you won a lottery ticket worth $10 million, what would you do?
Start a children's school in my ancestral village that will offer holistic education and personality development – two things that will help kids from less privileged backgrounds grow.