Back to Blogs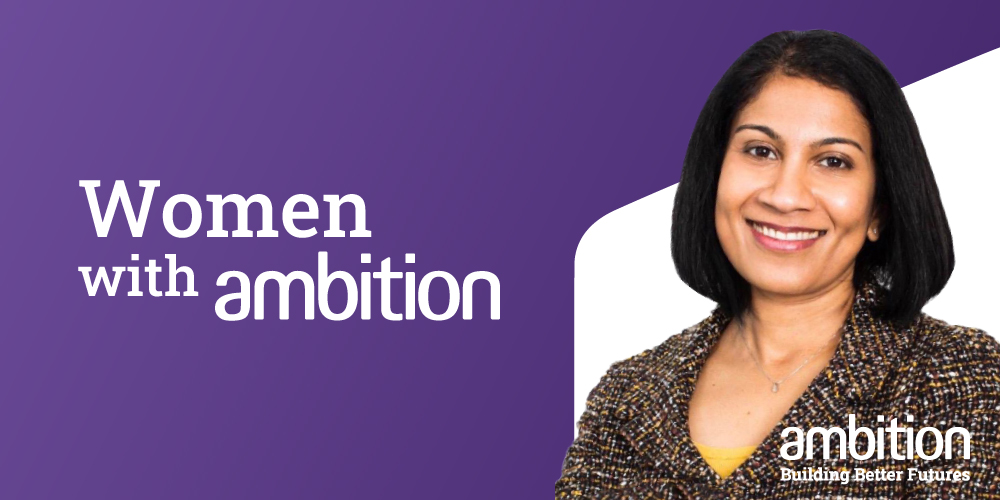 Women with Ambition: Up Close with Malini Sundaram
For Malini Sundaram, she strongly believes in elevating and empowering female leaders by providing them with the support network they need. As CFO Asia Cluster at Novartis, she has gleaned many lessons and amassed extensive experience as a finance professional.
In today's Women with Ambition feature, Malini lets us in on her advice and actionable insights for women to position themselves as strong female leaders and how you can help provide support for female leaders. Read on to learn more about her career, personal journey, and perspectives.
1. JP Morgan Chase, Citibank Inc. and Mastercard are just some of the companies who have adjusted the gender pay gap to close to one percent. Can you share examples of equality practices that your firm looks closely at?
Novartis is a signatory to the United Nations' Equal Pay International Coalition (EPIC) and made commitments in 2018 to achieve gender balance and pay equity by 2023. We have committed to the following practices:
Eliminate the use of historical salary data when making internal and external offers

Share with our associates their pay in comparison to internal and external benchmarks

Conduct regular gender pay equity analyses and remediate annually as appropriate

Achieve a gender-balanced representation in management by 2023
Currently, women fill 43% of our management roles and our goal is to achieve 50% by 2023. Examples of equality practices that we have in place are gender-neutral paid parental leave, reinforcing our commitment to flexible working, and ensuring that we have diverse candidate slates and diverse interview panels for all management hiring.
2. If you could give one piece of advice to your younger self, what would that be?
Do not be afraid to ask for help and be comfortable receiving help, both personally and professionally.
During the early part of my career, when I was fresh out of working in a Big 4 setting, I thought that I had to prove my worth by demonstrating that I could handle anything and take care of any situation. I quickly realized that it was not possible. The only way to achieve what you are seeking (e.g. career goals, business outcomes, personal goals, family commitments) is to reach out and get support. As one marketer once said to me, "Asking is Free"!
Likewise, you should also try to pay it forward and support others in need as well.
3. Who inspires you and why?
I get inspiration from people around me and from what I read. In particular, leaders who use their position to drive initiatives that have an impact on the world inspire me. For example, Michelle Obama with her 'Let's Move!' and 'Let Girls Learn' programmes. Bill and Melinda Gates with their foundation which focuses on ending poverty and improving education and healthcare.
There is one quote "Lift as you rise" that resonates with me. As you go up the career ladder, you will gain greater ability to have a positive impact on the people around you. I have realised that I am in a better position today to have a greater impact on areas that are close to my heart, such as education, diversity & inclusion, and healthcare.
For example, whilst in Australia, I introduced CareerTrackers and the Lucy Mentoring programme to my company. CareerTrackers is a national non-profit organisation that creates internship opportunities for Indigenous university students. The Lucy Mentoring programme is a mentoring programme that connects female university students with senior industry professionals to enable one-to-one mentoring.
Since being back in Singapore, I am a part of MentorsHub, a social mentorship initiative set up by like-minded PMEBTs (Professionals, Managers, Executives, Businessmen & Technicians) to enhance the capabilities and opportunities for young adults in Singapore.
4. What are some strategies that can help women achieve a more prominent role in their organizations?
I used to think that just doing good work would get one ahead in their organisations. Over the years, I have come to realise that this is only one of the prerequisites.
Some of the strategies that could help women progress are:
Make sure that your work creates meaningful impact and is visible. Communicate the value of your work

Network internally and externally around the areas of your interest and passion

Have sponsors in addition to mentors
Sponsors, in particular, are important. In a previous organisation, I realised that my career advanced due to the sponsorship of a senior business leader. He was proactive in sharing my contributions and impact in different forums. That was early in my career when I was not even aware of the term 'sponsor'! I have only retrospectively realised this.
5. As a female leader, what has been the most significant barrier in your career?
Whilst there have been external challenges, after some reflection, the main barrier is internal. Early in my career, I was not clear on my purpose. This led me to not be clear about my career goals; sometimes not believing that I should go for a larger opportunity or make bolder moves.
6. With most teams working virtually, how have you adjusted to this change and ensure there is transparent and effective communication with your team?
I have teams based in Singapore and teams based in other countries. Additionally, I have new team members – some who have just moved into the region or even those who have taken up new roles but cannot physically move due to travel bans in place. Thus, many different dynamics are at play at the same time.
The fundamental piece is to ensure that everyone is comfortable wherever he or she is, ensuring open communication and keeping the team dynamics going. This takes place in a few different ways:
Monday morning small group team meetings to see how the weekend went and share tips and interesting nuggets amongst the team. This can range from an interesting visit to the grocery store to a show on Netflix, or online exercise classes, etc. A feel-good start to the week!

Ensuring good etiquette for virtual calls. For example, having video on when speaking, allocating longer breaks for longer meetings and being very flexible; we are comfortable with interruptions or family members joining!

With different dynamics at home, ensuring that all associates are very comfortable taking time off or adjusting their work schedule as needed, without having to feel that they need to justify it

Sharing nice practices of how different leadership teams in other countries engage with associates. For example, some have virtual cooking sessions, sing-along sessions, virtual team online exercise sessions, etc.
7. How do you see businesses evolving after the pandemic subsides and what role should female leaders play during this period of transition?
Every business has to adapt and change. In healthcare, the pandemic has accelerated digital adoption at all segments, from patients to healthcare professionals and hospitals. Many of these changes are here to stay. Previous tepid pilot deployments in different areas, such as telemedicine, home-based health monitoring through wearables and digital engagement with customers, could potentially accelerate.
The pandemic is also bringing ESG (Environmental, Social & Governance) issues to the forefront. Businesses that address these issues well will be better positioned post-pandemic, including developing greater trust with society at large.
Additionally, the ways of working are evolving and will continue to evolve. Remote working, whether working from home or being based in a different country is becoming more mainstream. This may open up more opportunities for those who may not be geographically mobile.
Our role as leaders during this situation is to:
Stay true to our purpose

Be humble - we really do not know everything, especially during this period

Be more curious as the world is evolving with both opportunities and challenges being presented simultaneously

Be an inclusive leader (and this is most important)
​
​
​
​
​
​