Back to Blogs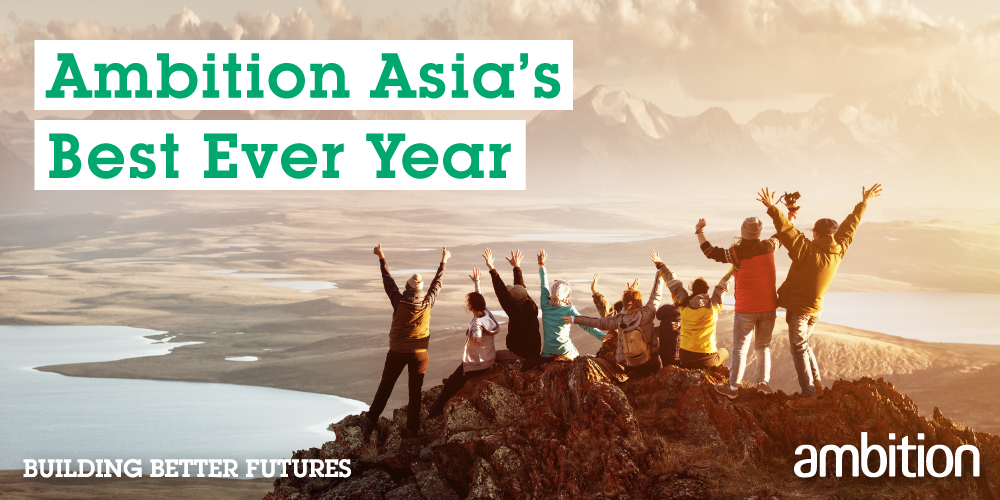 Is there such a thing as an Overnight Success?
If you're into football (and even if you're not) you've probably heard of Lionel Messi. However, you may not have known that he once said: "It took me 17 years and 114 days to become an overnight success".
The point is that, in the vast majority of cases, success takes time (sometimes a lot of time) and hard work with blood, sweat and tears thrown in.
For Ambition, 2018 turned out to be Ambition's most successful year in Asia to date after operating in the region since 2001.
What did success look like for us? Asia revenue contributed 45% of the overall Group revenue, had topline growth of over 40% and it was also our most successful year when it came to our purpose: 'Building Better Futures'.
At Ambition, it's this Purpose that sits at the heart of what we do. This means identifying the best talent for our clients and the best opportunities for our candidates that meet their personal aspirations. In 2018, we placed the most number of professionals into companies than we have historically and managed to surpass our initial goals for the year. In addition to this, we ran the most CSR initiatives than we previously had supporting 12 charities across our Asia locations and raising AUD75,000 for the communities in need.
However, our purpose isn't just focused externally, it's also focused on building rewarding and challenging careers for our employees and we were delighted to promote over 25 employees in recognition of their hard work and development.
I'm not a big believer in luck or chance, but rather that it's your actions that set you up for success or failure.
Achieving all the above was not just happenstance, but it was 2 years in the making and in order to achieve our most successful year to date, we focused on several areas including:
Vision
Back in 2017, we set out several goals for our business around what success in Asia would look like in 2020. This became our Vision 2020 roadmap. These were closely aligned around our Purpose and also those areas that we felt were strategically important for longer-term growth. It was really important that these were aspirational, engaging, challenging, represented stretch for the business and were goals that the broader business bought into.
Clear communication
Communication was critical to ensure that everyone was aligned, clear on the direction, and, effectively on the journey together. It also meant making sure people were accessible and that structures were flat to enable quicker decision making and agility within the organization.
Playing in position
Whilst everyone was on the same journey, it was also critical that they knew what their responsibilities were, what success in their role would look like and how this played into the bigger picture. Think about a sports team, a goalkeeper isn't going to make the best striker, just as a defender may not make the best winger. This can be applied to the business world as some people are excellent in account management, but may not be comfortable in new business development. Put people where their strengths are, and, even better, where their passions lie!
Collaboration
Whilst everyone had their own role, the Ambition culture is about teamwork and collaboration. We believe firmly that we will get further together. This doesn't always naturally happen, so a collaborative culture is something you have to build, support and foster. I think a critical part of fostering the right culture is about respect and support and having a structure that enables quicker collaboration. Know and value what others are bringing to the table, regardless of which department they are in. We are also very clear that we don't hire ego's or passengers and this helps set the right tone.
Fun
Now, this was probably the most important part. Making it fun. This doesn't mean silly fun and jokes all day (although there were quite a few!), but it means people enjoying the culture they are working in. Recognising good performances, appreciating peoples hard work and also making time to have fun together and know one another. There's been a lot said about the impact and importance of authenticity and vulnerability in leadership and I'm a big believer in that. Be yourself and don't take yourself too seriously, particularly as you get more senior. This is essential in building a fun culture with less hierarchy, more agility and quicker decision making
Innovation
Every business is getting disrupted in one way or another and our business is no different and we are committed to remaining relevant. We know that this is how we will grow and prosper. This means making a concerted effort to be across new developments in the market and consistently exploring ways that we can utilize technology to become more efficient and effective. We have innovation committees internally, have run Agile training courses and case studied leading companies as well as high growth startups to ensure we continue to learn, remain relevant and provide the highest levels of service
Whilst 2018 was our most successful year to date, we still have a long way to go. We still made, and still are making a lot of mistakes that we need to learn from, but 2018, was a milestone in us realizing we are on the right path.
Now our focus is on making 2019 even more successful. The good thing is that a lot of the work is done, the framework and structure are there, we have great talent in the business (but we need more) and we have the appetite and desire to get there. Now it's about continued hard work and the much talked about blood, sweat and tears!
If you are interested in working for a high growth business, being challenged to fulfil your potential and working with likeminded hungry, driven colleagues, determined to make a positive impact, then we'd love to hear from you and see how we can help Build you a Better Future!