Back to Blogs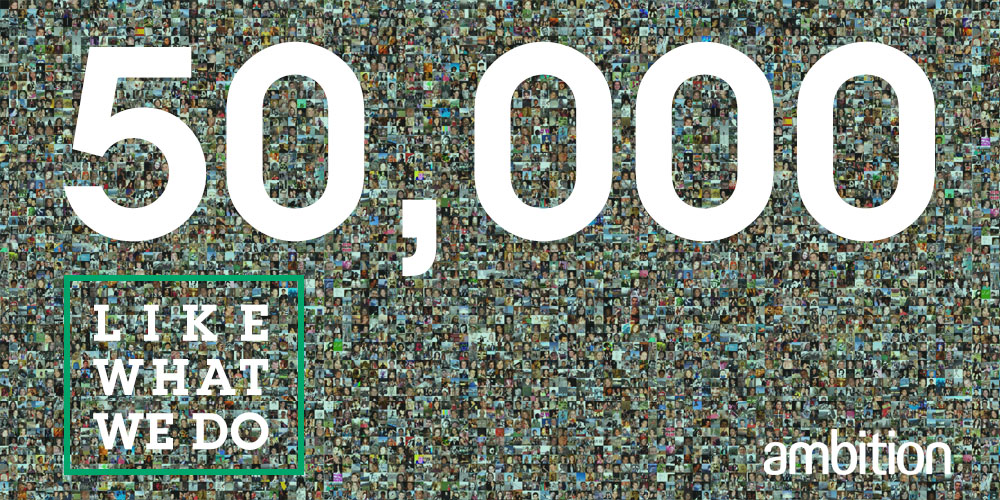 Growing our LinkedIn followers with great Insights and Advice
This week, Ambition hit 50,000 followers on LinkedIn! Growing such a number of followers hasn't come down to luck. Every day we invest time and effort into producing quality content and insights so people follow us to help them progress their careers or indeed build greater teams. So how have we done it? The secret is in our content.
Market Insights
Each quarter, our market insight reports analyse the client and candidate movements and based on this we can help with predictions of how the talent market will look to perform going forward. Our clients provide us with real-time information that is not often available through other mediums and we also meet candidates who are confidentially looking to move jobs. Based on how much global change is currently taking place, be that with Brexit or indeed with the newly appointed president of the USA, Mr. Trump, these quarterly reports are more up to date that traditional annual salary surveys that can be too generic and broad when it comes to making critical recruitment decisions especially when it comes to predicting movements around remuneration.
Articles & Blogs
Our blogs are varied in subject but once again are written with the professional job hunter or hiring manager in mind. We reach out to our audiences to understand the areas that they are most interested in hearing about so they have a go-to place whether they are looking for advice preparing for interviews or knowing the right soft skill sets to look for when hiring someone new for their team.
Events
Through LinkedIn sharing, we can promote our events so they are available to more people than ever before. Our events are very tailored in nature and we are fortunate to work with some great clients who are happy to attend as guest speakers.
Great Jobs
We know our LinkedIn global audience follow us to ensure they are kept up to date with some great opportunities both local to them but also in our other global markets. LinkedIn allows our followers to share these roles within their own networks, helping their friends and colleagues progress their careers.
Awards
Not only are our followers an endorsement of quality content posting on LinkedIn, we have been endorsed directly from LinkedIn themselves. They recently awarded Ambition as the Number 1 Most Socially Engaged Staffing Agency in Asia in their annual awards.
Finally...
And most importantly, we'd like to say a big thank you.
We thank each and every one of our followers for trusting us for great advice and for giving us some great feedback on our posts. We will continue to produce the very best content possible for you and look forward to continuing to grow our followers across LinkedIn and our other social media channels.
Follow Ambition on LinkedIn today to view our latest posts. We look forward to welcoming you!