Back to Blogs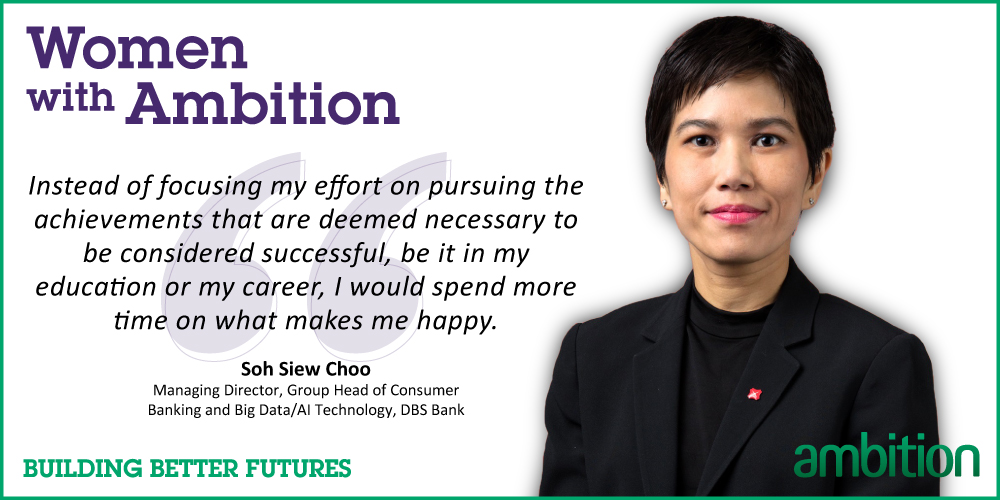 Women with Ambition: Up Close with Soh Siew Choo
Ambition is delighted to be launching our Women with Ambition series. The objective of this series is to foster a female community of professionals where senior leaders share their stories, experiences and advice to inspire, motivate and empower other female professionals. As part of this series, we'll be sharing relevant content, interviews and host exclusive events for this community.

Today we feature Soh Siew Choo, Managing Director of DBS Bank, who shares her success stories and experiences with us.
Question: JP Morgan Chase, Citibank Inc. and Mastercard are just some of the companies who have adjusted the gender pay gap to close to one percent. Can you share examples of equality practices that your firm looks closely at?
Answer: We are doing quite well in our gender equality agenda, especially at the most senior level. We have been recognised 2 years in a row by Bloomberg, as part of the Gender Equality Index. Achieving gender parity starts with awareness and education. We run multiple initiatives aimed at raising the awareness around unconscious bias. In addition, we facilitate those who are passionate about equality to contribute their effort in various initiatives. Special recognition of those who make an effort to patch the equality gap e.g. through differentiated referrals benefits, focused effort on hiring (e.g. Hack2Hire-Her). Creating the chain effect through recruitment of allies in the gender equality agenda is another great example.
Question: If you could give one piece of advice to your younger self, what would that be?

Answer: I would love myself more. Instead of focusing my effort on pursuing the achievements that are deemed necessary to be considered successful, be it in my education or my career, I would spend more time on what makes me happy.
​
Qustion: Who inspires you and why?

Answer: My dad has been my greatest inspiration. Despite being under-priviledged in his upbringing, he has been able to build a great business and provided me and my siblings with great education, despite receiving very little help or support. He inspired me to be very independent and to have no limits in my imagination of what is possible if you work hard and smart.
Question: What are some strategies that can help women achieve a more prominent role in their organizations?

Answer: Self confidence, grit and gut are some of the key attributes for women to progress in their career. Very often, we find women are in the minority. To be heard, you have to work doubly hard as compared to others. In other instances, women might be 'put down' because of their gender. You have to have the guts to stand up for yourselves and what you believe in to be visible. Finally, you must have the grit to never give up when all odds are stacked against you. These are some of essential attributes that might help.
Question: As a female leader, what has been the most significant barrier in your career?

Answer: Frankly, I have been fortunate in two ways. Throughout my career, I have had superiors who are very inclusive and unbiased in their mindset about what I can do. They have always given me opportunties to stretch and prove my potential irregardless of my age, gender, prior experience and cultural backgrounds. At the same time, I have always gravitated towards challenging assignments rather than run away from them. To be bold and courageous to take on difficult and 'risky' roles earned me the credibility that remove the biases that others may have about female leaders.