Back to Blogs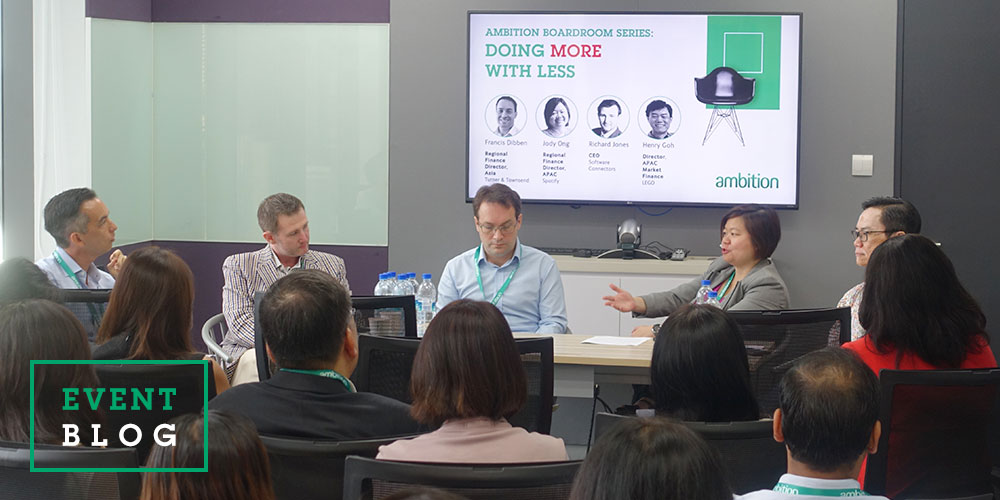 'Doing More with Less' - Ambition's Latest Boardroom Series Event
Our latest Boardroom Series event for finance professionals, 'Doing More with Less' featured an excellent panel of speakers including Jody Ong, Regional Finance Director APAC at Spotify, Francis Dibben, Regional Finance Director Asia at Turner and Townsend, Henry Goh, Director, APAC Market Finance at LEGO and Richard Jones, CEO at Software Connectors.
'Doing more with less' is a phrase that we regularly hear applied to the finance function in the current economic climate. The insightful discussion at the event focused on how finance professionals ensure that their productivity is maintained, or even increased in a cost-saving environment. The discussions also revolved around how the role of finance is changing in the face for automation and technological developments.
The panel generally agreed that advances in technology and innovation have disrupted and changed the traditional role of finance in recent times, but that in many ways this phenomenon creates new opportunities for finance professionals, and in order to stay relevant, these professionals are finding themselves at a closer position to the business.
Finance has been embracing automation quicker than the rest of the corporate functions, and they are well positioned to help and lead other areas of the business go through disruptive changes. Change can be uncomfortable and even be alarming for some when it comes to automation. The key to managing successful change is to ensure that there is an upfront transparent communication throughout the process. Change is never easy but clear communication and getting stakeholder buy-in are critical factors for successful implementation.

We've seen 80-85% of today's transactional finance roles going through the wave of automation.
- Richard Jones, Software Connectors

There was a broad consensus that automation and robotics will impact the types of roles that are in the finance department in the future.

Richard commented that 80% - 85% of transactional finance roles are likely to disappear in the future, so the people in these roles need to put themselves in positions where they are closer to the business. The role of finance in the future will not be simply the 'doing', but rather, the advising and the consulting, the 'how' and the 'why'.

Whilst the face of finance is changing, the consensus is that those who embrace automation are far more likely to run top performing businesses and this change has to be embraced, not resisted.
Outsourcing and automation free up time for thinking,
which ensures businesses do things right the first time and
spend less time fixing problems later.
- Jody Ong, Spotify
Trade-off discussions between finance teams that are in-house and outsourced
to shared services are important to ensure customer-facing finance roles
continue to provide quality service and retain brand reputation.
- Henry Goh, LEGO
In order to do more with less, finance needs to embrace various forms of technological advancements which include cloud-based solutions, automation, shared services, outsourcing and robotics process automation (RPA). Businesses may not utilise all of these but they should have a solution that suits their business model. It is important for businesses to remember that before any outsourcing takes place, it is essential to have proper mapping-out of processes and data accuracy. Inadequate preparation for this sets a risk for failure in implementation.

With the ability to access and analyse financial data quickly today,
meeting commercial demands have been easier.
- Francis Dibben, Turner and Townsend

So, in summary, there is no doubt that expectations of the roles of finance professionals are changing. It is not simply about accurate input and data management. It is about critical thinking, dealing with ambiguity, and coping with change, as well as advising and commercially supporting a business.
Over time, it is inevitable that some roles will disappear while others will emerge. If you want to be a part of new age finance, you have to be willing to embrace change and ensure that you have a part to play in this exciting journey.