Back to Blogs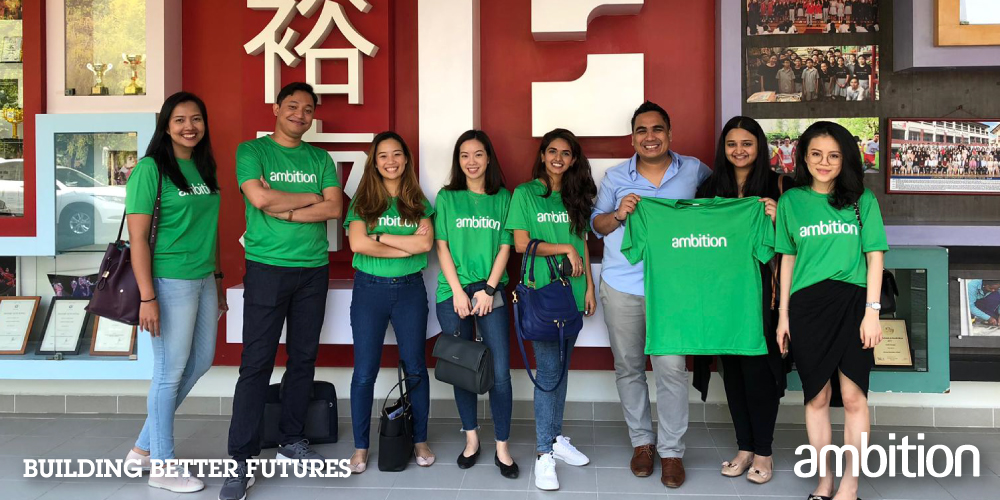 This month, 8 Ambition employees visited Jurong Secondary School together with Halogen Foundation, to deliver the Network for Teaching Entrepreneurship (NFTE) programme. The NFTE programme aims to inspire young people from low-income communities to stay in school, recognise business opportunities and plan for successful futures. Our Ambition volunteers headed down to the school to teach students about business fundamentals, developing an entrepreneurial mindset and building their confidence.
We made our way to the classroom through flights of winding staircases while the school bell rang. The setting moved most of us to reminisce our own school days. The lesson that followed was an eye-opening experience for all of us because we saw just how fortunate we were as teenagers, receiving the kind of education and additional support we received during our time in school. The NFTE module that we taught was the second last topic to be covered before the students' final presentation. During the final presentation, they would have to present their business idea that they've conceived and the plans they came up with during the programme. The presentations would be part of a nation-wide competition amongst all schools participating in the NFTE programme. Knowing this, we expected to see completed presentations that needed minor tweaks.
When we entered the classroom, we were greeted with an extremely enthusiastic bunch of students. We were divided into smaller teams such that each of us was paired with 2-3 students. During the session, we realised that there was a huge disparity when it came to the amount of work each student had completed and most students were far behind from completing their presentations. The students took a while to open up and engage with us – it was clear that most of them were not invested in their work and did not care too much for the presentation. However, after speaking to them and spending some time with them, it became apparent that it was due to their lack of confidence, rather than not wanting to spend time with us.
The class of students we were assigned to belonged to the Normal Technical stream, at least 60% of whom are under the Ministry of Education (MOE) Financial Assistance Scheme (FAS) and/or come from challenging, disadvantaged backgrounds like incomplete families and incarcerated parents.
All volunteers helped the students to the best of their abilities, providing feedback and helping them get as close to completion as possible. What we found most gratifying wasn't so much the progress we managed to help them make with their presentations. Instead, it was seeing them realise that if they put in the effort and received sufficient support, they could produce good quality work. The mixture of smiles and expressions of disbelief on their faces when they heard a simple "That's a great idea" were both heart-warming and saddening at the same time. It was clear that they appreciated the recognition that they received.
Generally, the students we were teaching preferred to be engaged kinaesthetically and have shorter attention spans. They found it challenging to grasp specific business concepts. However, the use of affirmative and positive language played a crucial role in helping them build their self-esteem and confidence. Although we only spent a few hours with them, the session helped all volunteers realise how blessed they had been during their youth and the kind of impact we could bring to these students during the session. These students need consistent attention, care and support and we were glad we could volunteer our time to spend the hours with them.