Back to Blogs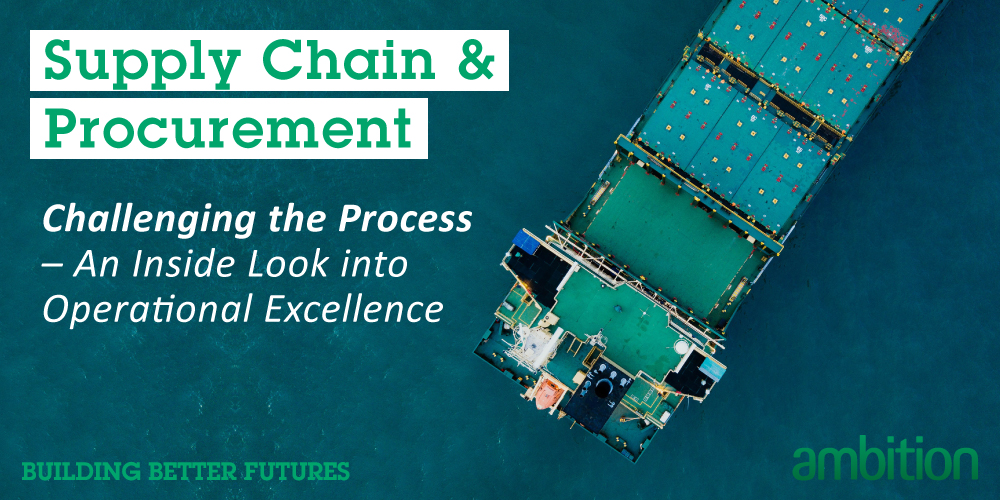 Challenging the Process – An Inside Look into Operational Excellence
Just because things have been done in a certain way, does not mean that it can't be done in another. We sat down with a Supply Chain & Procurement professional and asked key questions around career, technology and the industry. Read this blog for an inside look into an Operational Excellence professional's career.
1. Tell us about your current role and how you came across this opportunity.
I currently work as a Regional Operational Excellence Deployment Lead. I came across this opportunity through a job advertisement from Ambition.
2. How do you see yourself developing/potentially developing from this career move? In what way has Ambition helped you in your journey as a Supply Chain & Procurement professional?
By making this career move, I hope to broaden my Operational Excellence knowledge and depth of experience. As my current role is a regional one, I will also have a bigger exposure to the region.
3. Does technology play a big role in how you carry out your day-to-day tasks? Please provide some examples.
Technology definitely plays a big role. In my line of work, I typically employ statistical software such as Minitab, JMB and others that enable me to carry out data analysis more effectively.
4. What are the changes that you observe in the industry? How can professionals in this space prepare themselves for these changes (i.e. any key skills they should pick up, any areas that are growing or becoming obsolete)?
The industry has begun to see the value and changes that Operational Excellence can bring to their business. Moving forward, professionals need to be trained and equipped with Lean Six Sigma skills in order to bring their organisations to the next level of excellence.
5. What would you say is one challenge and one highlight of your time in the industry?
One of the key challenges I've faced is getting people to embrace an Operational Excellence culture and changing the way they work (i.e. adopting a mindset change). People tend to stick to what they know and doing things in a certain way so it was difficult to encourage people to make these changes.
As for highlights, I would say that generally I derive job satisfaction in helping organisations transform by embracing an Operational Excellence culture, and to support them in achieving success and growing together with the companies I work in.
6. What is the biggest learning that you've taken away during your career in this space?
I've learnt that it's beneficial to continue challenging the process. Just because things have been done in one way, does not mean that it cannot be done in another way. As a professional who is looking to advance in his/her career and add value to the business, do challenge the way things are done and do not be afraid to voice out your suggestions and ideas. It shows that you are innovative and take the initiative to improve on current processes.