Back to Blogs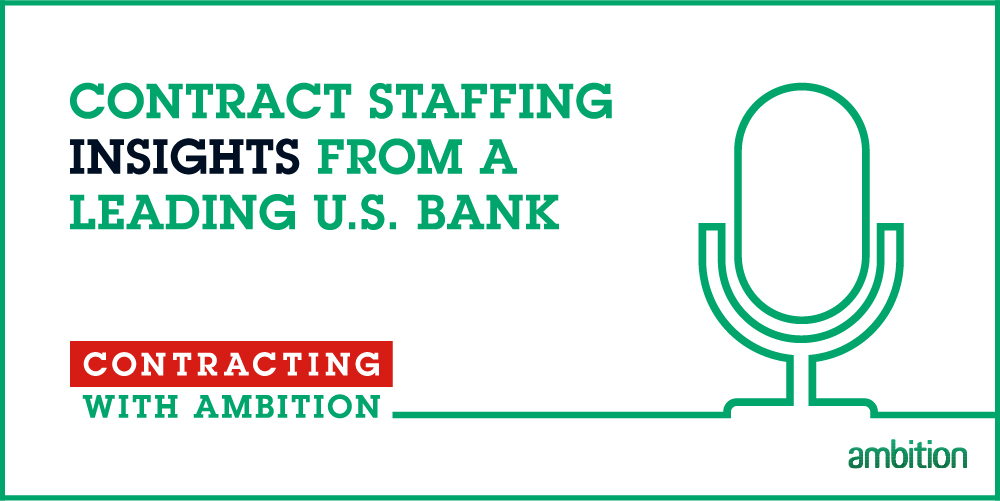 Contract Staffing Insights from a Leading U.S. Bank
Ambition recently caught up with a hiring manager from a renowned US corporate and investment bank in Singapore to gain valuable insights on his experience with contract and temporary staffing.

So tell us, why do you hire contractors as opposed to permanent professionals?
Recent roles in my function have been funded by strategic projects that require resource above and beyond my existing headcount to deliver.

Can you share with us a positive experience you've had on working with a contractor?
Following some internal movement that we experienced, a contractor who had only recently joined the organisation had become the main subject matter expert and "go to" contact for our clients and stakeholders with regard to a particular function within my team. This contractor showed the same levels of accountability and ownership as a permanent employee and was very soon converted into a permanent employee.

They say 'perfect' contractors are hard to find and even harder to hire as they become more experienced. As an employer, what strategies do you employ to get the best contract talent into your organisation?
I work with recruiters that have taken the time to understand my business, my specific team needs and culture, and who have a good track record in supplying strong candidates to my organisation. These recruiters also have a deep understanding of the contract market in Singapore.

Many people resist contract jobs for fear of job instability. How would you overcome this objection from a potential hire?
Most of my permanent team members originally came in on contract positions. It's a great way as a hiring manager to "audition" talent. Although there is no guarantee, a strong contractor who has proven themselves to be a good performer would be the first person I look to hire when a permanent vacancy arises.

Employee engagement is a key focus for many companies now. How do you engage and include contractors as part of your existing workplace culture?
Typically, contractors in my team are given the same responsibilities as permanent associates. They attend the same team meetings, functional/project meetings and have the same platform to voice out as permanent staff.

How do you see the trend of permanent vs contract hiring shifting in the near future for Singapore?
While I don't foresee a change to match the UK where often contract roles can be preferred to perm, I see a continued, if not greater demand for contractual staff, particular as a part of transformational projects in the industry.
We're very grateful for the time our client took to share their insights with us.
If you interested in finding out more about taking on contractor professionals as an alternative to permanent hires, please don't hesitate to contact me for more information or read more about Ambition's contracting division here.