Back to Blogs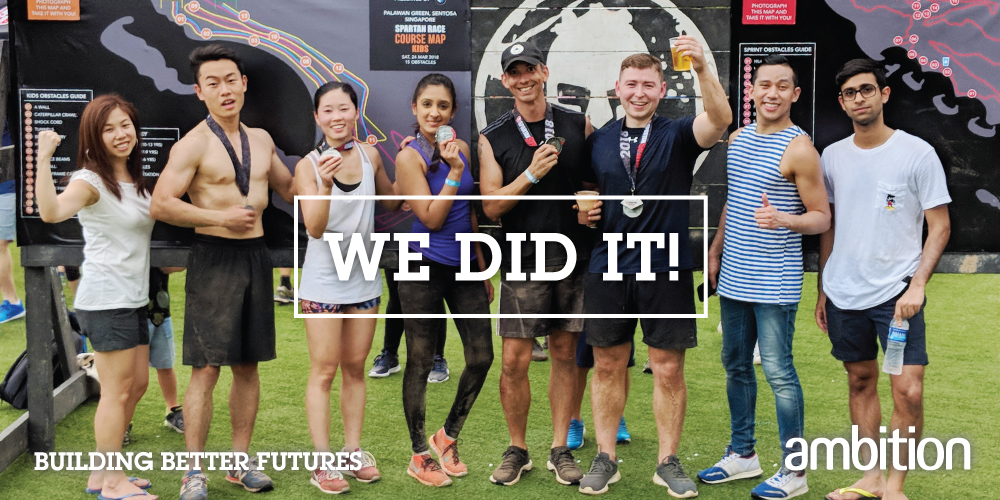 Team Ambition & HaTCH Goes Spartan For Charity
Corporate Social Responsibility, or 'CSR' for short, is a buzzword amongst many corporate firms globally. Specifically here in Singapore, we see a lot of great work being done to drive social and environmental change in the society at large.
At Ambition, we have a goal to raise AUD$300K across our 3 regional offices by 2020. In line with this goal, on March 24, 2018, 10 of our daring #AmbitionAthletes and #HaTCHletes participated in the gruelling Spartan Race. The Spartan Race is considered to be one of the most physically challenging obstacles in the world.
As a team, we decided that all proceeds from this race will be donated to Singapore Disability Sports Council. SDSC is the only organization that offers a wide range of sports at competitive and non-competitive levels. In Singapore, we chose this charity because we believe sports shouldn't be restricted to any specific individuals, and as a firm, we wanted to make any little difference we could in this endeavour. At the same time, Spartan was the chosen race, as it is one of the very few special races that offer a similar course to children with intellectual and/or developmental disabilities.
Some of our team members started training 2-3 months ahead, and one of the participants even spearheaded Bootcamps on a weekly basis to prepare for the race. The biggest realization for me was that overcoming 20 extremely demanding obstacles, including climbing 5Ft, 6Ft, and 7Ft walls, crawling through barbwire and carrying 40-pound sandbags up a steep slope (just to name a few!) along a 6km route, was more mentally challenging rather than physically painful.
As much as I am proud to call myself a 'Spartan' now, I am even more delighted to say that we are the only recruitment firm in Singapore, who has participated in a Spartan Race as a team! #AmbitionPride
Personally, as someone who is part of the CSR Committee at Ambition, I feel strongly about giving back to society in some way or another. This could be as simple as an act of kindness every day, or as extravagant as planning a gala dinner. On a quarterly basis, we plan and execute multiple projects targeting different groups of individuals.
If you would like to join us for our next CSR activity, please reach out to me on my email below. We are always welcome to have another helping hand in #BuildingBetterFutures for all!