Back to Blogs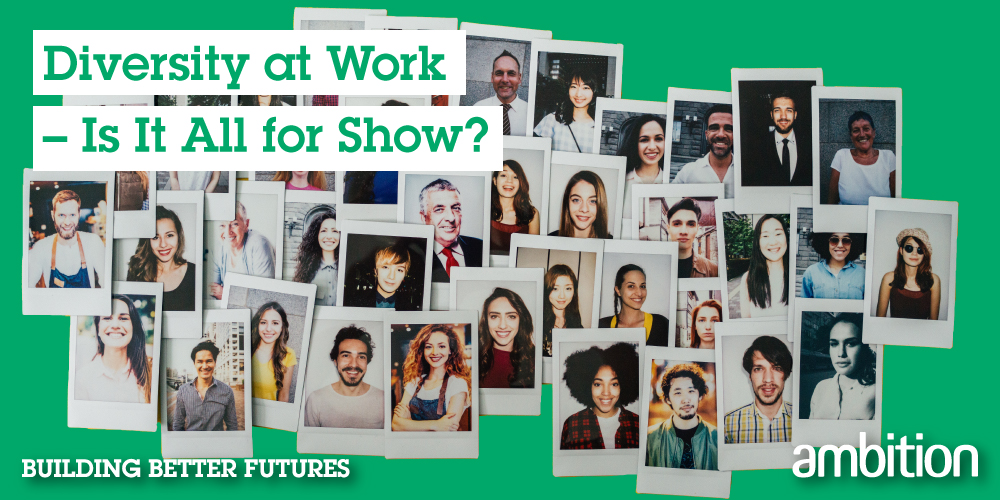 Diversity at Work – Is It All for Show?
When you start at a new company, there is always that little bit of fear and apprehension as you step into the office on the first day. Jittery nerves and tentative thoughts get to you. You're not quite sure what the people will be like and whether you'll like the new environment. My worries were unfounded as I was welcomed by an amazing and tight-knit group at Ambition. But what struck me the most was how diverse the company is.
My new colleagues come from 13 countries, each with their own cultural background and upbringing. Collectively, we speak more than 17 languages and dialects. We don't have a massively huge office here in Singapore, there are approximately 40 or so of us but while we don't have the big numbers, we make up with spades of diversity.
You might be thinking, why is it so important for an organization to be diverse? In some cases, it's just for show right? Well personally, I love being part of a diverse organization. I enjoy coming to work and interacting with different people each day and learning from their experiences. It's a great feeling when everyone is different, and you don't feel left out of conversations or activities. However, in the short time that I've been at Ambition, I've come to realize that diversity brings with it a lot more benefits than the initial welcoming feeling I got when I first joined.
Making Better Decisions
At Ambition, people are able to contribute ideas freely and raise their concerns or thoughts to management easily. What I've noticed is that there is a wide variety of ideas being put forth. While some can be pretty out there, the majority of the ideas reflect the current situation that people face in their day to day work. In some cases, these ideas touch on things that the management may not have encountered or are not so familiar with. However, it's the fact that the ideas are taken into consideration and allowed to be developed further and implemented that's crucial. It allows for two things to happen, both of which benefit Ambition and its business.
One, the free flow of ideas and implementation of some of the suggestions create a safe space for people to share, knowing that what they say is valued by the company. Since joining Ambition, I've felt more motivated to think outside of the box and to come up with better ideas. The environment itself inspires creativity and innovation to take place. Let's take our CSR activities as an example, our CSR committee regularly think of different ways to engage our people and clients to contribute to our CSR efforts. Ambition holds regular auctions and potlucks where people can donate money in return for food or to be part of an activity (i.e. our consultant, Sohail, recently won an auction to be Ambition's Managing Director for a day!).
The second thing that happens is that together with management and the rest of the employees, the leadership team is able to make better decisions for the business. The contribution of diverse perspectives and insights enable people to be more informed and it's more likely that most, if not all, aspects of the situation have been covered.
Improving Our Daily Interactions
Our business relies on us working with different clients, jobseekers and other stakeholders day in, day out. I constantly hear stories from our consultants about the people that they meet daily. I also hear about the jobseekers that have been out of work for months and how it's been a struggle for them to find a job. I feel being in a diverse environment allows us to build a deeper sense of understanding and empathy for others; two traits that are critical when working in the recruitment business.
Creating an Inclusive Workplace for All
With people from all walks of life working in Ambition, there has been a greater push for programs centred around creating greater inclusiveness in the workplace. After all, we're not diverse just for the sake of being diverse right? Here are just two examples of how we contribute towards an inclusive workplace across all our Asia offices:
Ambition supports the yearly Pink Dot event in Hong Kong. Our HK colleagues will get dressed in pink Ambition t-shirts and head down together to the event. I must say, it's great working for a company that supports LGBT+ causes and puts in the effort to show their support for diversity and equality.
Ambition also launched our Back to Work program to support and help those who have taken a career break and been out of the workforce for more than 1.5 years. With this program, we're taking it one step further and doing something that's not just for our people internally. As part of the program, participants were selected to undergo tailored workshops and coaching by Ambition to help them re-enter the workforce.
We've run two editions of this program, one in Hong Kong and one in Singapore. During the Singapore edition, I was part of the team helping to run some of the activities and got the chance to observe the career workshops that were run. It was heartening to see the efforts of our facilitator, Tracy Tam, during the planning and facilitation of the workshops for our program participants. I also had the opportunity to interact with the participants who had nothing but praises for this program. They shared that the workshops helped them to be ready and become more confident to tackle their job search. It was a sweet scene when the participants handed us a card with personal messages, thanking Ambition for the program.
It's an empowering feeling being part of Ambition, where diversity is celebrated and respected. I am able to be myself at work and share my unique opinions and experiences without fear of being sidelined. Ambition has created a space where people feel included and valued. We celebrate the differences and welcome crazy and (sometimes) whacky ideas.
There's no denying that companies are becoming increasingly more diverse. Share with me your thoughts and stories about diverse workforces. Do you think they benefit the company or are just a way for the company to look good? Tell me what you think!