Back to Blogs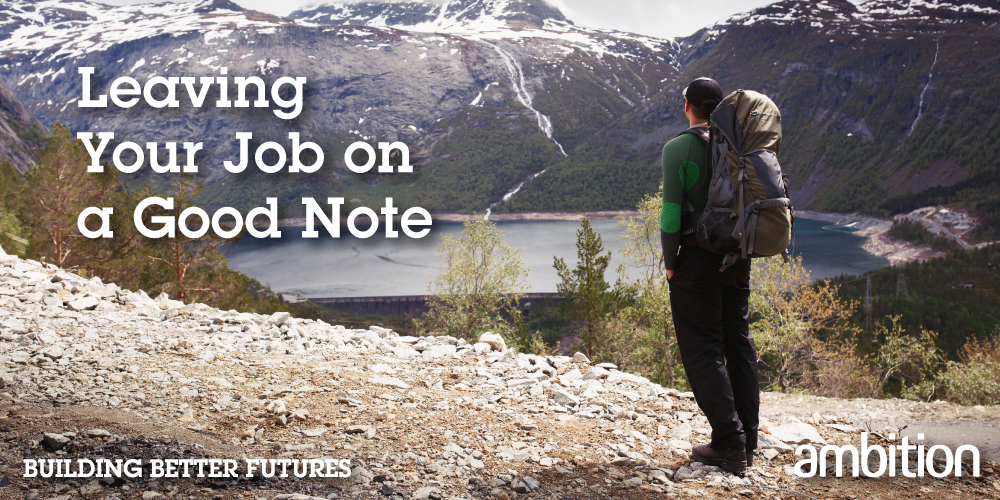 Leaving Your Job on a Good Note
You've done it. You've gone through all the hard work of crafting resumes and cover letters, powered your way through interviews and accepted that job offer you wanted. The worst is now over. Or is it?
The prospect of telling your boss that you're resigning can be daunting. Leaving the job, company and colleagues may also bring about a mix of emotions to the surface. Whether you loved your time there or flat-out hated your job, it's important to ensure that you leave on a good note.
We've often heard the phrase 'don't burn your bridges' and this is particularly true when it comes to leaving your job. You never know when you might cross paths with your boss or colleagues in the future so you want to ensure that you are professional in how you exit the company. People often remember the last impression of you even more than the first one.
The ultimate goal is to part ways with your company on the best terms. We've put together some pointers on how you can create a solid exit strategy:
Give notice
You have done it. You're set on leaving and your mind is made up. The first thing you should do is to inform your manager first before he/she hears about it from someone else. Arrange a meeting with them to discuss one on one. Have a resignation letter prepared that you can hand to them. Be aware of your notice period and assure your manager that you'll be present and engaged for the remaining days/weeks and that you'll do a proper handover.


A-Tip: You form the narrative on your departure from the company. Clarify with your manager on how the news will be disseminated to the team and company and, also how this will be communicated. There may be questions on your next steps; you are not obligated to share where you'll be moving to. Just be transparent and upfront in whatever you tell others. Stick to one story.
Tie everything up in a bow
You might be eager to walk out the door, but hold your horses as you want to make sure you leave on a positive note. Assess the current projects you have on hand and look to seeing as much as you can through, it is your responsibility to do the best possible handover. However, you need to be strategic about your time to ensure a proper transition. If what you're working on can't be completed before you leave, pen down clear instructions and information on the next steps. This will help your team or the person who will be replacing you continue the work. Beyond that, it shows to everyone that you value your work and leaves a positive mark on your professional reputation. On your last day, forward anything important to the relevant people, clear your emails and clean out your desk/workspace.
A-Tip: It is likely that your manager will be hiring someone to replace you. An appreciative boss helps when you get in touch for a reference a few months down the road. You're the best person who would know the ins and outs of the role that you've been doing. Provide input and feedback on the job description, offer to help with looking at profiles, sitting in interviews and/or training the new joiner (if time permits).
Don't do anything you may regret
This is important! Do not download or leave with copies of important and/or confidential documents. No sneaking off with office supplies or anything you did not work on either. Typically, you will go through an exit interview. Do not take this opportunity to unload everything negative about the company, your team or your job. Show gratitude for the time you've spent there and provide constructive feedback.
A-Tip: While you may be excited about moving to your new role, remember to play it cool. Not everyone may want to hear about how you're going to join a better company or how you'll be doing more exciting things.
Reaffirm connections
Your network of connections can be extremely powerful. Take this chance to share your appreciation to the people who you've worked with. You can choose to send out a mass or personalized email. Keep in mind to send out one to your colleagues and another to your external contacts (i.e. clients, vendors etc.). Give them a way to reach out to you in the future, either a personal email address or share your LinkedIn profile.
A-Tip: Help your colleagues out by letting them know of important trends taking place in the market, sharing interesting articles or connecting them to relevant contacts in your network. All of this helps towards leaving a good last impression and showing them how you are able to add value.
Resigning or moving on from your company might be difficult but it doesn't have to be a painful experience. Follow these simple tips and you'll be on your way to leaving your job on a good note!