Back to Blogs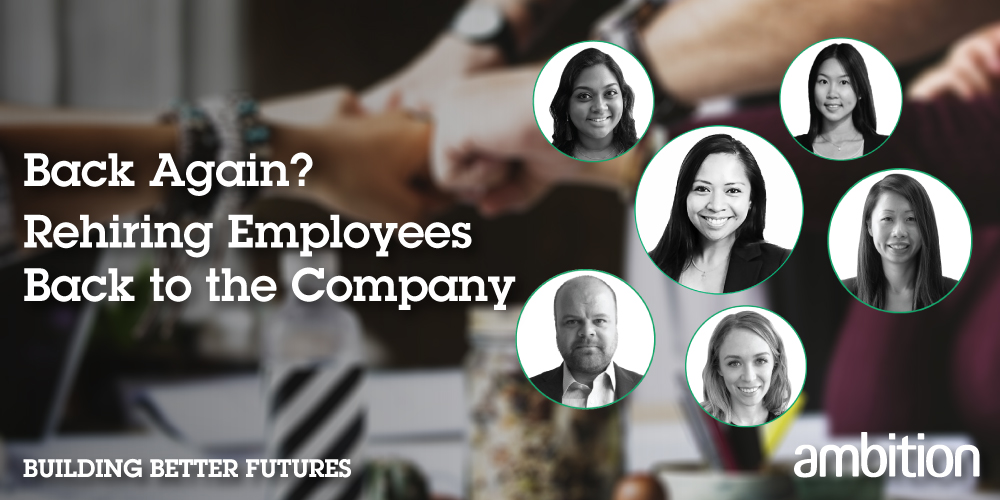 Back Again? Rehiring Employees Back to the Company
At Ambition, we aspire to be THE employer of choice in the industry. What does this mean? Fundamentally it means that we:
Hire the best people

Provide great environments for our people to work in

Invest in training development and the necessary infrastructure to ensure they have the best possible tools to reach their potential

Provide challenging and rewarding careers that fulfil a purpose

It's often hard to pinpoint where you are as a business on that 'employer of choice' scale although there are many things that point to the fact that we are getting there. We have attracted and retained great people over the past few years, and our annual culture survey consistently displays Ambition being a great place to work at, where over 98% of staff would recommend others to work. But one of the great factors and indicators in recent times is that not only are we attracting more talented professionals from the competition than we have before, we are also seeing more people coming back to Ambition!
1. Why do people love working at Ambition and why are we considered an employer of choice?
Often a key factor that people talk about when coming back to Ambition is the culture. It's often described as unique to other companies. There is a strong sense of collaboration, teamwork, and fun within a high-performance setting. People genuinely respect one another and there isn't a sense of hierarchy. We don't hire egos, but nor do we hire those who just want to cruise.
As a business, we have a purpose that we truly believe in; Building Better Futures. This runs internally and externally, for our candidates, for our clients, for the less fortunate in the community and for our employees. We passionately believe in this, driving this through our services, through our CSR efforts and through our L&D and career paths.
2. How do you feel about the people that have returned to Ambition?
I feel fortunate and humbled that people have chosen to come back to Ambition – it demonstrates that we are doing something right and gives us the confidence to continue the path we are going on.
As a business, we are looking to evolve, and one way we do that is through hiring people that have come from other environments and those who are returning to us from other businesses. We've found that they inject fresh ideas and perspectives into the business so that we can consistently improve.
3. How does Ambition invest in its people and why is it important?
I strongly believe that any business that really wants to engage with its employees need to be actively investing in training and developing them. This is important to ensure that there is consistency in the level of professionalism displayed from your team but also to make them feel that they are being challenged, that they're developing their skills and progressing in their careers. If you develop your people, you will develop your business as they are one and the same.
Recognition and praise are important and at Ambition, we have several recognition and incentive schemes in place to ensure that our employees get this. These range from Values awards (recognising those who exemplify our company's values), high achiever lunches, spot prizes (champagne/cinema tickets), weekends away, annual high flyer trips and many more. However, it's worth noting that's it's not just prizes that count, it's often just genuinely recognising someone and thanking them for the hard work on a project or on a job well done.
We are also strong believers in collaboration and teamwork. We know we will get further by working together and we're fortunate that we have a team that is very close regionally, take part in a lot of team building activities and genuinely support one another. We also have a lot of fun!
4. For those returning back to Ambition, what exciting developments do they have to look forward to?
Aside from the above, Ambition is embracing innovation. This has been shown through the launch of HaTCH that has been rapidly expanding in the region and positioned itself as the leader in startup recruitment, working with leading VCs and exciting funded startups in high-growth stages. We have recently launched our own 'Refer and Apply' app on Android and are also embracing AI and bots in other areas of the business. Marketing and technology sit at the heart of our strategy in terms of amplifying our message across all channels and improving efficiencies and interactions. We are 'obsessed' with remaining relevant and ensuring our client and candidate community get the best possible service and access to the best possible talent, as well as ensuring our teams get the best possible tools to fulfil their potential.
More recently, we started and launched our 'Back to Work' programme in Hong Kong and Singapore, with a Malaysia launch slated for Q1 2019. The programme focuses on getting talented professionals back into the workforce and has been extremely well received externally. As a company, we are extremely proud of this initiative. This is a great example of how we are trying to utilise the skills, experience, and network we have at our disposal to truly make a positive impact on our community and work towards our purpose to Build Better Futures.