Back to Blogs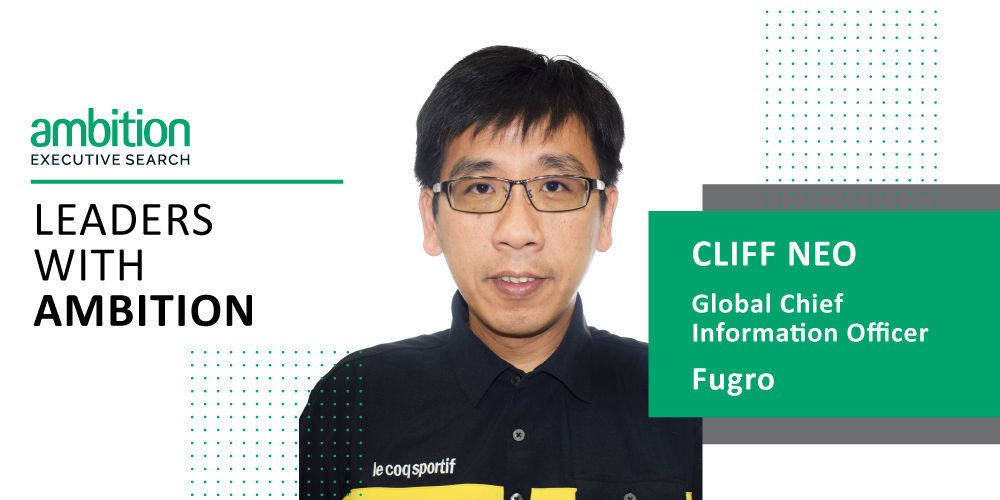 Leaders with Ambition - An interview with Cliff Neo of Fugro
Plenty of planning and focus (with a bit of luck thrown in) contributed to Cliff Neo's illustrious career in the IT industry. Cliff shares his unique story and journey towards becoming Global Chief Information Officer of Fugro. Learn more about the steps he took and lessons learnt throughout his extensive career in this special interview!
Fugro provide the people, equipment, expertise and technology that support the exploration, development, production and transportation of the world's natural resources. They give you the technical data and information required to design, construct and maintain your structures and infrastructure in a safe, reliable and efficient manner. Fugro operates around the world at sea, on land, and from the air, using professional, highly-specialized staff and advanced technologies and systems
1. How did you get to your position today?
It was a journey of planning, envisioning, focus and having that little bit of luck (opportunity) along the way. I reviewed my career 15 years ago where I set a target goal of becoming a CIO and worked on the gaps that I had. I also constantly looked at opportunities that would enable me to work towards the goal.
2. From your first job until present, what important lessons have you learnt along the way?
There were many lessons I picked up, but I would have to pin it down to being very open to change, and always working and thinking beyond my current role and being prepared for the next opportunity.
3. Who is your role model and tell us a bit about them.
I grew up with my uncles and one of them showed me that hard work was the only way to go through life. His education was during the transition of Chinese to English materials in NTU and he worked extra hard during that conversion as his earlier education was all in Chinese. Even in the working world, he still constantly works on improving his language skills. A real inspiration to me.
4. What inspires you?
One, real-life cases of hard work translating into successes, and two, the recognition from customers or business stakeholders that I receive when I have contributed beyond what my role requires.
5. What is your greatest achievement to date?
Conceptualizing a revolutionary approach to a way of working, in the form of a program, and actually seeing it through successful execution. The program even gained business acknowledgment as one of the most successful programs from IT in the company.
6. What is the biggest challenge you've faced in your career and how did you overcome it?
The biggest challenge would have to be my successful conversion from a technical IT professional to being part of the management team. I achieved this through diligent focus on learning suitable management approaches and building up relevant skillsets whilst battling the need to let my technical bias take over.

7. What is the most valuable advice you have been given?
Focus on the business, as without the business, there will be no IT.
8. What advice would you give to professionals looking to excel in their career?
Always think and approach challenges and tasks from an overall perspective not just from a specific role perspective. Always look at the business before functional bias takes over.
9. Can you give me 3 things on your 'bucket list'?
To visit and drive through the Nürburgring track in Germany
To own and operate a café/pet shop
To own a supercar
10. What 3 words would you use to describe yourself?
Adaptable, focused and self-aware.
11. If you could live in any country in the world, where would you live?
Taiwan
12. If you won a lottery ticket worth $10 million, what would you do?
Start a café/pet shop business, get a car I like and lend a helping hand (financially) to various people in my life.​