Back to Blogs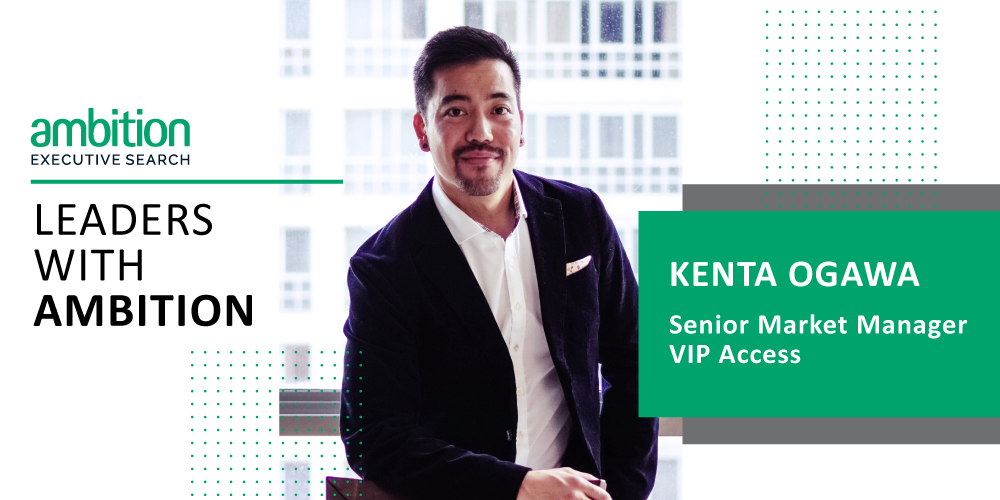 Leaders with Ambition - An interview with Kenta Ogawa
Like anything in life, not everything is smooth sailing and you are bound to encounter bumps along the way. Kenta Ogawa has certainly experienced that in his career. He lets us in on the lessons he has gleaned from his biggest career challenge and shares his advice to other professionals.
1. How did you get to your position today?
My journey to reach my most recent position commenced from my upbringing. Being a child to immigrants left me curious to experience life outside the country. This, in combination with the coincidence of growing up in Seattle during the rise of West Coast tech companies (Microsoft, Amazon, etc.), instilled in me an inherent love for travel and technology.
Following my graduation from the University of Washington School of Business, my academic passion and focus on marketing drove me to a number of opportunities. First, I was contracted with Microsoft. I then assumed a marketing role with a local gaming company aptly named Gaming Consultants, Inc., before finally being recruited to Expedia Group. My tenure at Expedia Group spanned 8+ years and saw me progress through various loyalty marketing, account management and partnership roles across the US, Europe and now, Asia.
2. From your first job until present, what important lessons have you learnt along the way?
The 3 most important lessons I learned and continue to employ:
1. Work with integrity and cover yourself - Always make sure your actions and decisions at work are ethical, help the team win and are in the interest of the company. Make sure you have written confirmation to justify said actions and decisions.
2. Deliver on your commitments - No one likes undependability. When it comes to building relationships, reliability and follow through will never go out of style.
3. Treat others, as you would want to be treated. Seriously. While cliché, it is absolutely true. Your network of people might be one of the most important professional tools. Whether it is a new job, partnership, resources, counseling, references or more, you never know who you might need and how they could help.
3. Who is your role model and tell us a bit about them.
My professional role model would be my brother-in-law, Gary. A veteran of the data-driven marketing world, he has an impressive background making critical business impact to some very notable companies (including AT&T and Netflix). Subsequently, as I strive to achieve someday, he has been successful in founding and operating his own B2B, data-driven marketing consultancy firm. He also is an active VC and entrepreneur.
4. What inspires you?
Travel and food. Particularly when you combine them together. Stuffat tal-fenek from Malta, xiao long bao from Taipei, nicoise from Nice, bebek bengil from Bali, brisket from Texas and much more. No matter the culture, food brings people together to find commonality. Look a little closer and a region's culinary specialties can be a delicious portal to the people's traditions, lore, history, and origins.
5. What is your greatest achievement to date?
My greatest professional achievement is having had the fortunate opportunity to lead the Expedia Rewards point donation relationship with St. Jude Children's Research Hospital. A global leader in children's cancer research and treatment, St. Jude provides free treatment for children regardless of their race, religion or ability to pay. Driving this project and connecting to the consumers, while helping others in need was an incredible win-win solution that went beyond business impact.
6. What is the biggest challenge you've faced in your career and how did you overcome it?
One of the biggest challenges I faced in my career was an organizational restructuring resulting in the global redundancy of my team.
The 5 lessons I've learned and employed to overcome the challenge are:
1. Redundancies are a business decision, not a personal insult – Organizational restructurings are a normal part of any multinational corporation. It is okay to be upset or angry, but let it happen quickly and then move on.
2. Be open and honest about the situation - Speaking about the experience will not only help you accept the reality but also increase awareness of your situation to those around you to aid in the search for your next step. You may be surprised by how supportive people are, and their willingness to help should you be forthright.
3. Remain pragmatic and opportunistic - You may not often find yourself forced into the open job market. It is scary, but it doesn't have to be. Take advantage of this time to explore new interests and seek out something that can improve your life.
4. Resist temptation - It can be easy to fall into a pattern of lounging around the house and doing nothing. However, be aware as this can end up creating an unwanted habit, which will require breaking. In order to avoid this pitfall, maintain an active daily routine (volunteering, exercise, taking classes, etc.).
5. Remember your worth - Looking for your next opportunity may require going through a string of rejections first. Know that being turned down does not lessen your value. It simply means your value was not seen properly. Learn from the experience and push forward.
7. What is the most valuable advice you have been given?
Progress is not always a straight line. Sometimes a lateral move or even step back may be required in order to make the next step.
8. What advice would you give to professionals looking to excel in their career?
Never stop learning and developing yourself. Similar to Gladwell's 10,000 hour rule, it's not about how long you've done something. It's how you've spent the time improving who you are and what you are doing.
9. Can you give me 3 things on your 'bucket list'?
1. Increase my Japanese fluency to be able to pass it on to the next generation
2. Step foot on every continent (including Antarctica)
3. Face my fears - hold a tarantula
10. What 3 words would you use to describe yourself?
Loyal, calculated and active.
11. If you could live in any country in the world, where would you live?
Japan (again).
12. If you won a lottery ticket worth $10 million, what would you do?
Post-tax? Just kidding. The first thing I would do is to buy my parents a new home. Then save and diversify 90% of the remaining funds, donate 5% to WeCare Sri Lanka (a not-for-profit veterinary clinic I volunteered with) and use the final 5% as "mad money" to treat myself and the rest of my family and friends with a holiday. Also, did someone say food truck?!