Back to Blogs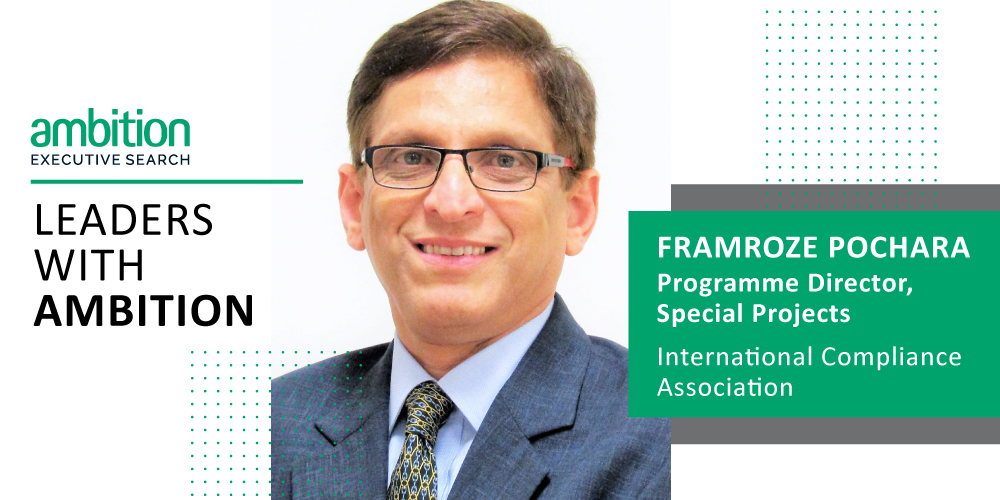 Leaders with Ambition - An interview with Framroze Pochara
Framroze Pochara, Programme Director, Special Projects at the International Compliance Association, attributes hard work and persistence as the 2 key factors contributing to his career success. He set very ambitious goals early in life and put in the hours to master the knowledge and skills necessary to achieve them. Hear more about his story in this interview!
1. How did you get to your position today?
A laser-sharp focus to excel in my career and in whatever I do. I always did very well in my academics and was amongst the top 3 in class. After graduation, my only focus was on building a good career with no distractions. I set my career goals very early in life. I remember going for an interview when I was a manager and around 30 years of age. The interviewer asked me where I saw myself in the next 5 years. Very confidently I told him that I would like to be a General Manager or Head by the time I reached 35 and CEO by 40. The interviewer was shocked by my response and thought I was being very arrogant. You could probably guess that I did not get the role. I kept working hard, built my knowledge and completed a Master's in Financial Management from a prestigious college in India (where I was ranked first in the University) without ever losing sight of my goals.
I achieved my goals - I was promoted to Vice President at National Stock Exchange of India before I was 35 and appointed as CEO of Dubai Gold and Commodities Exchange before I turned 40.
I am reminded of a quote by Paulo Coelho "When you want something, all the universe conspires in helping you to achieve it". If I could add on to the quote, I would say it only depends on how badly you want it and what sacrifices you are willing to make.
2. From your first job until present, what important lessons have you learnt along the way?
1. Be persistent - never give up.
2. Not every day will be your day - keep striving.
3. Do things the right way, the ethical way - there are no shortcuts in life.
4. Be empathetic to people around you. The end is important, but how you achieve it is even more important.
5. Be a master in your chosen field. For example, Mr. Ratan Tata, ex-chairman of the Tata Group once said "each entity within the Tata group should be a market leader, ranked 1, 2 or 3 in its industry. If not, they have no business to be in business."
3. Who is your role model and tell us a bit about them.
My role model is J.R.D Tata, ex-Chairman of the Tata Group, the father of Indian aviation and the first ever Indian to be issued a pilot license. In 1932, he founded Tata Airlines which is now known as Air India. J.R.D.Tata turned Tata Group into one of the most prestigious and successful industrial groups in India. It was under his leadership that Tata Group assets climbed from Rs 620 million in 1939 to more than Rs 100 billion in 1990.
His principles and the motto of Tata Group has been to do business ethically. In fact, the Group were the first in India to implement workers' welfare rights which included eight hour working days, paid leave, Workers Provident Fund Scheme and Workmen's Accident Compensation Scheme (introduced in 1920) and a scheme for maternity benefits introduced in 1928.
Another role model whom I highly respect is the late Dr. A.P.J Abdul Kalam, ex-President, and Scientist, nicknamed the Missile Man of India. A man from humble beginnings who, with his tenacity and hard work, became the Chief Scientific Officer of India and later, President of India.
4. What inspires you?
I get inspired by everyday scenarios. A common man on the street working hard to provide for his family, a parent finding time for their child after a hard day's work, labourers who stay separately from their families for 2 years and slog six days a week so that their families back home have a comfortable life or the old uncles and aunties in the hawker centers clearing dishes when they can hardly walk. I am inspired by any person who strives hard to make a living, despite all the challenges life throws at them.
I feel that if these people can overcome such adversity, I am in a much better position to face day to day obstacles. Every time I face a situation that may not be in my comfort zone, I replay these scenarios in my mind.
I also draw inspiration from leaders who treat their staff well or people who have done well in life and give back to the less fortunate either through donating money or their time.
5. What is your greatest achievement to date?
I chased my dreams and achieved my goals. By far my greatest achievement was to be appointed the founder CEO of Dubai Gold and Commodities Exchange, implement the project and successfully lead the startup exchange. I consider this as a major achievement as I had not led an organization prior to that and I did not have a background in commodity exchanges. The achievement was made sweeter as the organization was based in Dubai, which does not have a track record for commodities or derivatives trading.
I was given this opportunity based on my work ethic and can-do attitude, a reputation I had gained while working for the National Stock Exchange of India.
6. What is the biggest challenge you've faced in your career and how did you overcome it?
While working for a firm in Singapore, the majority shareholder of the firm wanted me to conduct the affair of the company in a manner which I did not consider to be ethical. I informed the concerned official that I have never compromised on my principles of doing business and will not do so in that instance. As a result, I chose to resign and forfeited a large amount of bonus. The best advice I got from my parents is 'You can earn the money back but not your reputation'.
7. What is the most valuable advice you have been given?
Do not lose hope. If you believe in something, go all out to achieve it.
8. What advice would you give to professionals looking to excel in their career?
There are no shortcuts in life and there is no alternative for hard work. I hear constantly about work-life balance from those starting out or even from those who have yet to start their first job. I was interviewing a candidate for one of the firms I was leading; he was a good and smart candidate who had worked for 2 years and was looking to move. Towards the end of the interview, I asked if he had any questions for me. He then asked me how the work-life balance was like in the firm.
From my experience, when you're starting out you might need to put in long hours and this is a good time to invest this time to learn more. By acquiring more knowledge and skills, it will put you in a better position in the future as you progress in your career. Furthermore, as you get older and start a family and have other responsibilities, the toll of working long hours will be greater. So my advice is "To gain something, it is likely you have to sacrifice some things. What you choose to sacrifice depends on what you want to achieve. Some people invest in themselves today and reap the benefits later. Others constantly sacrifice because they have to in order to achieve the goals they set for themselves throughout their career."
9. Can you give me 3 things on your 'bucket list'?
I have achieved what I set out to do, both professionally and personally. I would now like to:
gain knowledge about new technologies that are on the rise such as blockchain, AI, machine learning, data analytics. I want to figure out how I can blend my expertise the things I learn to resolve some of the challenges faced in the financial services industry
travel
dedicate some of my time to a social cause involving children and education
10. What 3 words would you use to describe yourself?
Persistent, confident and a perfectionist.
11. If you could live in any country in the world, where would you live?
Any place which has an abundance of sun and sea, and where the people are warm.
12. If you won a lottery ticket worth $10 million, what would you do?
I would donate 50% of the winnings to a charity or an NGO for less fortunate children. I strongly believe that for the world to be a better place to live in, we need to invest in children.